Jack Baldino – 2018 Player of the Year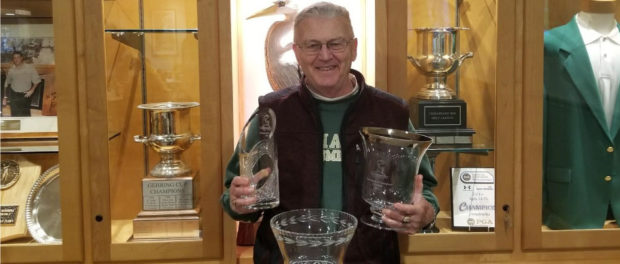 Congratulations to Jack Baldino who finished his golf season on top winning Chesapeake Bay Golf Club's 2018 "Player of the Year" with a final 2,800 points.
Playoffs Recap
Congratulations to our 2018 Tournament of Champions winner and Player of the Year Jack Baldino!  Jack won in dramatic fashion in a sudden death playoff that went 5 holes over Arlene Zamora.  Jack's net 75 came on top of a tight leaderboard in cold, windy conditions.
Other awards were given out – Masters Jacket winner Bernie Weed got to wear the Green Jacket and Shelly Pinkerton received her trophy for winning the Ladies Club Championship.  Bob Whiteoak and Al Snyder were named this year's "Glenn Slonecker Member of the Year" due to their amazing work on all the renovations we made to our ballroom this year.  Cheryl Nye won "Most Improved", and Dave Whitlock won his second "Dick Civita Sandbagger of the Year" award.
As always, it was a fun and exciting end to another great season and we look forward to 2019's club tournaments!
2018 Tournament of Champions Final
"Net" Results
Sunday, October 21, 2018 at Chesapeake Bay Golf Club
| | | |
| --- | --- | --- |
| 1st Place: | Jack Baldino | 91 – 16 = 75* |
| 2nd Place: | Arlene Zamora | 80 – 5 = 75 |
| 3rd Place: tie | Evan Barbin | 80 – 3 = 77 |
| | Andrew Barbin, Jr. | 77 – 0 = 77 |
| | Jeff Medlar | 81 – 4 = 77 |
| 6th Place:  tie | Austin Barbin | 77 + 1 = 78 |
| | Jack Falkenstein | 93 – 15 = 78 |
| | Steve Rogers | 90 – 12 = 78 |
| 9th Place: | Shelly Pinkerton | 90 – 11 = 79 |
| 10th Place: | Tom Vincenti | 87 – 7 = 80 |
| 11th Place:  tie | Alison Harrison | 99 – 18 = 81 |
| | Dick Weirback | 100 – 19 = 81 |
| | Gary Adams | 97 – 16 = 81 |
| 14th Place:  tie | Jim Weinzetl | 91 – 9 = 82 |
| | Kent Morgan | 92 – 10 = 82 |
| 16th Place:  tie | Frank Orbin | 95 – 12 = 83 |
| | Bernie Weed | 98 – 15 = 83 |
| | Cheryl Nye | 112 – 29 = 83 |
| | Tammie Vincenti | 93 – 10 = 83 |
| | Bobby Whiteoak | 97 – 14 = 83 |
| 21st Place: | Frank Cortazzo | 111 – 24 = 87 |
| 22nd Place:  tie | Denise Medlar | 122 – 33 = 89 |
| | Theresa Anderson | 124 – 35 = 89 |
| 24th Place: | Mike Nelles | 108 – 18 = 90 |
| 25th Place: | Donna Weirback | 118 – 18 = 100 |
2018 Player of the Year – Final Points Totals
| | | |
| --- | --- | --- |
| 1st Place: | Jack Baldino | 2800 |
| 2nd Place: | Frank Orbin | 2765 |
| 3rd Place: | Evan Barbin | 2566.66 |
| 4th Place: | Bernie Weed | 2515 |
| 5th Place: | Jim Weinzetl | 2282.50 |
| 6th Place: | Shelly Pinkerton | 2000 |
| 7th Place: | Austin Barbin | 1858.33 |
| 8th Place: | Arlene Zamora | 1830 |
| 9th Place: | Cheryl Nye | 1465 |
| 10th Place: | Jack Falkenstein | 1453.33 |
| 11th Place: | Andrew Barbin, Jr. | 1166.66 |
| 12th Place: | Jeff Medlar | 1146.66 |
| 13th Place: | Denise Medlar | 1042.50 |
| 14th Place: | Steve Rogers | 938.33 |
| 15th Place:  tie | Mike Nelles | 835 |
| | Tom Vincenti | 835 |
| 17th Place: | Alison Harrison | 685 |
| 18th Place: | Theresa Anderson | 682.50 |
| 19th Place: | Donna Weirback | 650 |
| 20th Place: | Dick Weirback | 605 |
| 21st Place: | Gary Adams | 595 |
| 22nd Place: | Frank Cortazzo | 580 |
| 23rd Place: | Tammie Vincenti | 575 |
| 24th Place: | Kent Morgan | 572.50 |
| 25th Place: | Bobby Whiteoak | 525 |