Austin Barbin Shoots 69 to Win Tour Championship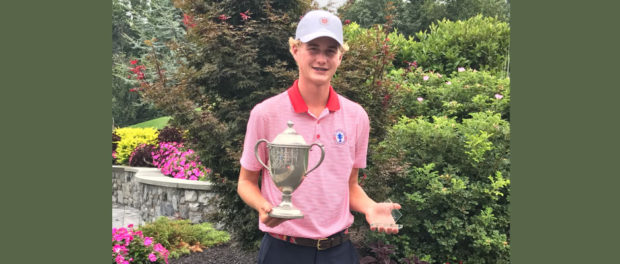 Congratulations to Chesapeake Bay Golf Club junior golfer Austin Barbin (age 16) for winning the Philadelphia Junior Tour Championship with a 2 under par 69 at Commonwealth National Golf Club in Horsham, Pennsylvania on August 14, 2017.
Austin Barbin (Elkton, MD) and Caleb Ryan (Norristown, PA) tied for the overall Boys and the Boys 16-18 Divisions with scores of 69 (-2).  The tie was broken by a sudden death playoff where Austin Barbin was able to make a birdie, ending it on the first hole. Barbin had 4 birdies on his round all coming on the front nine.
How to Qualify for the Junior Tour Championship
Invitation-Only
Qualifiers must place in a tie for first or better in their respective age division (Boys 16-18, Boys 13-15, Girls 13-15, Girls 16-18, or 9 Holers (Boys & Girls 10-12) during the 2017 Junior Tour Season or the events after the 2016 Junior Tour Championship

or

Finish in the top 25 in points for the Boys 13-15 or Boys 16-18 division or the top 10 in points for the Girls 13-15 division, Girls 16-18 Division, or the12 & Under Division (Boys & Girls).
Contestants may qualify in only one age division
About the Philadelphia Junior Tour
The Philadelphia Section PGA Junior Tour leads the region in competitive junior golf, conducting over 90 events seasonally at top facilities. With more than 800 members, the Junior Tour is represented by players from every geographic location in the section.
Select tournaments earn players AJGA performance-based entries and Junior Golf Scoreboard rankings. With ample opportunities to learn, grow, and compete, many Junior Tour members graduate to play at the collegiate level and beyond. The Philadelphia Section PGA Junior Tour Program is proud to help develop social skills, self-esteem, and inspire youth in our community.
Source: phillyjuniortour.com