Arlene and Shelly win 1st Gross, Steve and Gordy take 1st Net. Congrats!!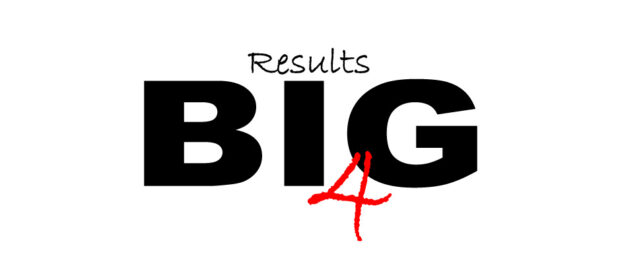 The Big 4 – Golf Results
Chesapeake Bay Golf Club's "Big 4" Tournament is a two person Team Event with Gross & Net Prizes. The first round held on June 25th was a Best Ball of Partners and Scramble. The second round on June 26th was an Alternate Shot and Combined Aggregate format.
Congrats to Shelley Pinkerton and Arlene Zamora for winning the Gross Team Prize with a 185 Total score. Steve Westerfer and Gordy Kerr won First Net with a 167 Total score.
Gross Results
| | | | | | | |
| --- | --- | --- | --- | --- | --- | --- |
| Overall Gross Place | Overall Gross Score | Team | Scramble Gross | Better Ball Gross | Aggregate Gross | Alt Shot Gross |
| 1st | 185 | Shelley Pinkerton / Arlene Zamora | 31 | 38 | 75 | 41 |
| 2nd | 199 | Bob Dietrich / Bill Strow | 32 | 41 | 83 | 43 |
| 3rd | 202 | Randy Burton / Jeff Gross | 36 | 39 | 82 | 45 |
| 4th | 204 | Andrew Barbin Jr / Jake Eckman | 34 | 35 | 90 | 45 |
| 5th | 205 | Paul Hrabec / Mike Bailey | 35 | 42 | 82 | 46 |
| 6th | 209 | Pete Petersen / Keven Lawson | 38 | 41 | 84 | 46 |
| 7th | 218 | Steve Westerfer / Gordy Kerr | 39 | 40 | 92 | 47 |
Net Results
| | | | | | | |
| --- | --- | --- | --- | --- | --- | --- |
| Overall Net Place | Overall Net Score | Team | Scramble Net | Better Ball Net | Aggregate Net | Alt Shot Net |
| 1st | 167 | Steve Westerfer / Gordy Kerr | 33 | 28 | 71 | 35 |
| 2nd | 169 | Shelley Pinkerton / Arlene Zamora | 29 | 35 | 68 | 37 |
| 3rd | 171 | Pete Petersen / Keven Lawson | 34 | 33 | 67 | 37 |
| 4th | 172 | Randy Burton / Jeff Gross | 33 | 33 | 68 | 38 |
| T-5th | 182 | Bob Dietrich / Bill Strow | 30 | 38 | 75 | 39 |
| T-5th | 182 | Andrew Barbin Jr / Jake Eckman | 34 | 33 | 77 | 38 |
| 7th | 184 | Paul Hrabec / Mike Bailey | 33 | 38 | 72 | 41 |