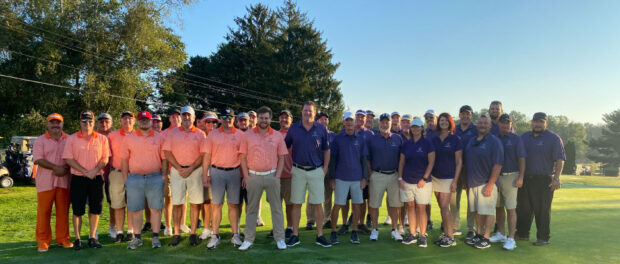 Congratulations to Team Chantilly for their narrow 17.5 to 15.5 victory over Team Chesapeake in the 2021 Barbin Cup! This great team event – inspired by the old Chesapeake vs Horsham Valley matches – is an annual favorite among our membership.
Captains Andy Barbin Sr. and Andrew Barbin Jr. drafted members to form teams. Members were then teamed up for the first and second 9 hole matches, the first being alternate shot and the second being better ball. We then had lunch and announced our individual matchups for the final 9 holes.
Thank you to all of our members that played and made it such a fun event! We look forward to next year's Cup!
Team Chesapeake (in orange):
Andrew Barbin Jr
Jeff Medlar
Randy Burton
Dougie Phillips
Jerome Beyer
Riley Gilbert
Nate Haney
John Baynes
Tommy Vincenti
Keven Lawson
Mike Kennedy
Mike Bailey
Tyler Hogue
Steve Smith
Mike Nelles
Jerry Hogue
Homer Welch
Chris Franjesh
Team Chantilly (in purple):
Andy Barbin Sr
Evan Barbin
Justin Ragan
Eric Walters
Al Synder
Bobby Whiteoak
Denise Medlar
Joe Ferdinando
Jim Weinzetl
Rob Riel
Jason Hurlock
Mike Fox Sr
Larry Steward
Tammie Vincenti
Jesse Crockett Sr
Mike McBride
Alternate Shot / Better Ball Results
Andy Barbin Sr
0
vs
Andrew Barbin Jr
2
Eric Walters
Mike Nelles
Justin Ragan
0.5
vs
Tommy Vincenti
1.5
Evan Barbin
Steve Smith
Bobby Whiteoak
1
vs
Jeff Medlar
1
Al Synder
Randy Burton
Denise Medlar
1.5
vs
John Baynes
0.5
Mike Fox Sr
Mike Bailey
Larry Steward
1.5
vs
Mike Kennedy
0.5
Jesse Crockett Sr
Nate Haney
Mike McBride
2
vs
Jerome Beyer
0
Jason Hurlock
Riley Gilbert
Tammie Vincenti
0.5
vs
Jerry Hogue
1.5
Jim Weinzetl
Keven Lawson
Rob Riel
1
vs
Tyler Hogue
1
Joe Ferdinando
David Shoemaker

8

8
Individual Matches
| | | | | |
| --- | --- | --- | --- | --- |
| Andy Barbin Sr | 1 | vs | Andrew Barbin Jr | 0 |
| Evan Barbin | 0 | vs | Jeff Medlar | 1 |
| Justin Ragan | 1 | vs | Homer Welch | 0 |
| Eric Walters | 0 | vs | Nate Haney | 1 |
| Al Synder | 1 | vs | Steve Smith | 1 |
| Bobby Whiteoak | 1 | vs | John Baynes | 0 |
| Tammie Vincenti | 1 | vs | Keven Lawson | 0 |
| Mike Fox Sr | 1 | vs | Chris Franjesh | 0 |
| Mike McBride | 1 | vs | Jerry Hogue | 0 |
| Joe Ferdinando | 0.5 | vs | Riley Gilbert | 0.5 |
| Larry Steward | 0 | vs | Randy Burton | 1 |
| Jim Weinzetl | 0 | vs | Mike Bailey | 1 |
| Jason Hurlock | 1 | vs | Tommy Vincenti | 0 |
| Jesse Crockett Sr | 0 | vs | Mike Nelles | 1 |
| Rob Riel | 1 | vs | Tyler Hogue | 0 |
| Denise Medlar | 0 | vs | Mike Kennedy | 1 |
| | 9.5 | | | 7.5 |