AFGL FootGolf Tournament!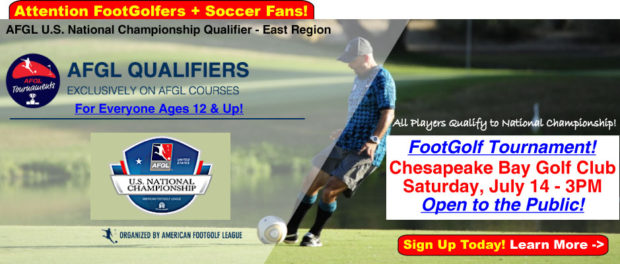 AFGL – American FootGolf League
National Championship Qualifier – East Region
Attention FootGolfers and Soccer Fans!
You are invited to play in the American FootGolf League National Championship Qualifier Tournament this Saturday, July 14th at Chesapeake Bay Golf Club with starting times beginning at 3:00pm.
*GREAT NEWS! ALL PLAYERS will Qualify to the AFGL U.S. National Championship – Aug 27-31, 2018 at Reunion Resort in Kissimmee, Florida!
For FootGolfers aged 12 and up – all skill levels welcome.
Tournament Details:
Date: July 14th, 2018
Starting Time: 3:00 PM
Starting Style: Tee Times
Course: Chesapeake Bay Golf Club, 128 Karen Dr., Rising Sun, MD 21911
Entry Fee:
AFGL Member Price: $35 per player
Non-Member: $35 per player
Player Categories:
Junior (Ages 12-17)
Men (Ages 18-45)
Senior (Ages 46 & over)
Women (18 & over)
To Register:
Hurry! To Sign Up, please Register Online at https://www.footgolf.us/calendar
U.S. FootGolf National Championship 2018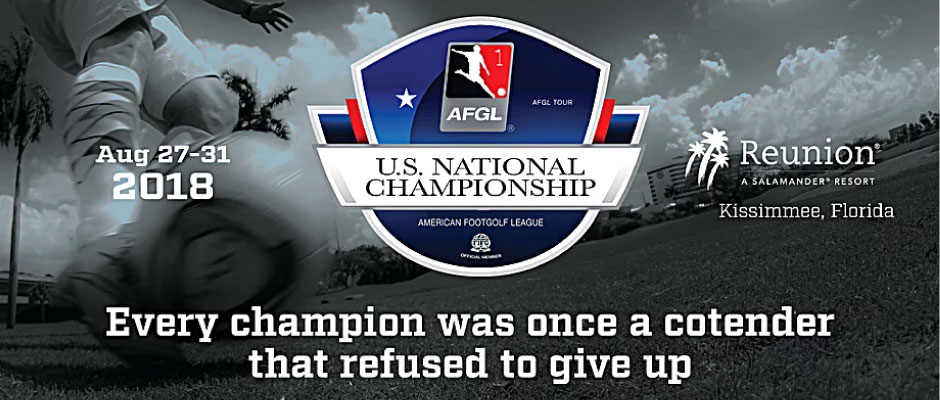 Four years after introducing FootGolf to North America, the AFGL launched the first National Championship in Chicago, Il. For the following two years, the biggest FootGolf competition in the U.S. was held at the home course of the American FootGolf League in Palm Desert, Ca with increasing numbers of players from different states. In 2018, "The National" is moving to the East Coast, and is expecting a record participation.
Source: www.footgolf.us