2018 Club Champions – Full Results.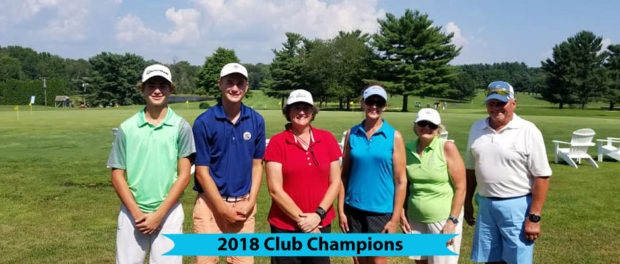 Chesapeake Bay Golf Club
49th CLUB CHAMPIONSHIP
August 4 & 5, 2018
History & Past Winners of Chesapeake Bay Golf Club's Club Championship 1969-2017
Congratulations to Chesapeake Bay Golf Club's 2018 Club Champions – Shelly Pinkerton and Austin Barbin.
Tournament Recap
Day One
We're in for an exciting finish here at the 49th Club Championship!
Defending champ Austin Barbin made 6 birdies en route to his leading 1 under par 70, but his 3 brothers were right behind him.
The Ladies' Side is tight too! Bernie Weed leads with an 88, with 2016 champ Shelley Pinkerton not too far behind!
Day Two
Results are in! Congratulations to Shelly Pinkerton on winning the 2018 Ladies Club Championship! Her solid back nine effort put her over the top en route to her 2nd title.
On the Men's side, 17-year old Austin Barbin won his 4th club championship in 5 years with his stellar rounds of 70 and 68. His 4 under par finish matches the club record he set last year. This is Austin's 3rd straight club championship win, tying another club record (David Lynch from 2009-2011).
Austin didn't have it easy, as his three brothers were all in the mix down the stretch. 2015 Champion Zach Barbin finished 72 – 69, Andrew Barbin Jr. finished 72 – 72, and Evan Barbin finished 74 – 73 to win the A Flight.
Jeff Medlar played great in his club championship debut with his 79 – 75 finish, as did the ever steady Earl Mitchell with his 77 – 80 finish.
Frank Orbin edged out Pete Petersen down the stretch to win the B Flight, and Steve Westerfer came from behind to take the C Flight.
Club Championship Results
Ladies
A Flight
| | | | |
| --- | --- | --- | --- |
| | Day 1 Score | Day 2 Score | Total |
| Shelly Pinkerton | 89 | 88 | 177 |
| Bernie Weed | 88 | 94 | 182 |
B Flight
| | | | |
| --- | --- | --- | --- |
| | Day 1 Score | Day 2 Score | Total |
| Susan Eichler | 99 | 90 | 189 |
D Flight
| | | | |
| --- | --- | --- | --- |
| | Day 1 Score | Day 2 Score | Total |
| Denise Medlar | 114 | 115 | 229 |
| Theresa Anderson | 143 | 137 | 280 |
Men's
Championship Flight
| | | | |
| --- | --- | --- | --- |
| | Day 1 Score | Day 2 Score | Total |
| Austin Barbin | 70 | 68 | 138 |
| Zach Barbin | 72 | 69 | 141 |
| Andrew Barbin Jr. | 72 | 72 | 144 |
| Jeff Medlar | 79 | 75 | 154 |
A Flight
| | | | |
| --- | --- | --- | --- |
| | Day 1 Score | Day 2 Score | Total |
| Evan Barbin | 74 | 73 | 147 |
| Earl Mitchell | 77 | 80 | 157 |
| Steve Smith | 83 | 84 | 167 |
| Jim Weinzetl | 88 | 84 | 172 |
B Flight
| | | | |
| --- | --- | --- | --- |
| | Day 1 Score | Day 2 Score | Total |
| Frank Orbin | 85 | 85 | 170 |
| Pete Petersen | 87 | 87 | 174 |
C Flight
| | | | |
| --- | --- | --- | --- |
| | Day 1 Score | Day 2 Score | Total |
| Steve Westerfer | 105 | 90 | 195 |
| Bob Kern | 108 | 92 | 200 |
| Mike Nelles | 103 | 107 | 210 |
Photo Gallery