2020 Club Championship Results
Congratulations to Arlene Zamora and Austin Barbin – our 2020 Club Champions!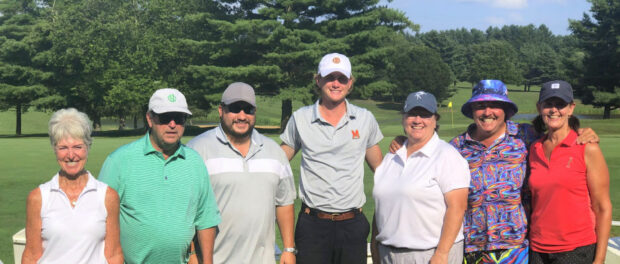 Chesapeake Bay Golf Club's
51st Club Championship Results
History is made yet again at Chesapeake Bay Golf Club's 2020 Club Championship! Austin Barbin shoots a course record 63 (8-under par) on round one, and a 6-under 65 for a record setting 14-under par to claim his 6th Men's Club Championship title. Arlene Zamora defends her title to become the 10-time Ladies Club Champion.
Congratulations to all of our Flight winners and participants for a great tournament.
Round 1 Recap – August 1, 2020
The 51st Annual Men's and Ladies Club Championship is underway!
In a loaded Men's Championship Flight, 19 year old and 5-Time Club Champion Austin Barbin (University of Maryland) broke the course record he set in last year's contest with a blistering score of 63 (-8). After shooting a 31 (-4) on the front 9, Austin found some trouble on 10, 11, and 13, bogeying all of them with a birdie on 12. He then proceeded to finish holes 14 through 18 eagle – birdie – par – birdie – eagle to give him a 6 shot lead over older brother Zach Barbin (Liberty University), who finished with a solid score of 69 (-2). Following behind the dynamic duo was youngest Barbin brother Evan Barbin and Goldy Beacom's Shea Murphy.
Our star-studded Championship flight, and arguably the most talented field in club history was played from the newly lengthened black tees (7061 yards par 71) for the second year.
On the Ladies side, 9-time champ Arlene Zamora holds a 6 shot lead over Jefferson University's Audrey Moon with her steady score of 81. If Arlene pulls out another strong round, she'll increase her title hold to 10 career Club Championships. 2 time club champ Shelley Pinkerton is 7 back.
On the Men's A Flight, Mike Fox holds a narrow lead with his great score of 77. Right behind him follows Tommy Vincenti (80), Earl Mitchell (81), Travis Price (81), Rickie Smith (82), Chris Ritchie (83), and Jim Weinzetl (84).
The Men's B Flight is also a close contest, with our net champ Steve Smith (83) holding a stroke lead over Pete Petersen. Steve Westerfer and Jack Falkenstein lurk only 4 shots behind.
The ladies A Flight features a close contest between Bernie Weed and Keven Lawson, only separated by a few strokes.
The Ladies B Flight is a close contest between 2 time reigning flight champ Denise Medlar and Theresa Anderson.
In the Men's C Flight, Rob Reil holds a solid lead over Gordy Kerr.
Stay tuned for more action tomorrow!
Round 2 Recap – August 2, 2020
And the results are in for the 51st Mens and Ladies Club Championship here at Chesapeake Bay Golf Club!
In the Men's Championship Flight, Austin Barbin followed up his course-record 63 with another phenomenal round of 65, demolishing his own tournament record with a total of 14-under-par for the 36 Hole Event. This marks the fifth-straight title for the 19 year old Austin, and his sixth title overall.
Austin's tournament score of 128 bested runner-up and reigning Philadelphia Amateur champ Zach Barbin by 11 strokes, who posted an excellent 3 under par finish for the contest. Following behind Zach was youngest brother Evan Barbin at 145, Shea Murphy at 146, Andrew Barbin Jr. at 148, and Jeff Medlar at 153. Despite playing both rounds from the tips, the top 5 finishers scores would have won nearly every Club Championship in Club History (historically played from the 600 yard shorter white tees) up until the Austin Barbin era – so thank you for all of our talented contestants who made it such a great event!
In the Ladies Championship Flight, Arlene Zamora and Audrey Moon had a great battle that went to the final hole in regulation. Audrey's stellar 78 was one putt away from overcoming her 6 shot disadvantage going into the final round. But Arlene's 83 proved to be just enough to clinch her 10th career title.
In the Men's A Flight, we had some drama and a great battle in what was an otherwise stacked flight. Tom Vincenti's rock solid 77 paired with his first round 80 led him to repeating as the A Flight Champion. He fended off Rickey Smith, who fired a 77 of his own, as well as Earl Mitchell and a charge from Chris Ritchie.
In the Men's B Flight, we had a great battle to the finish, with Pete Petersen firing a 79 to compliment his first round 84 to sneak by Steve Smith's pair of 83's en route to his title.
In the Men's C Flight, Rob Reil bested Gordy Kerr to claim his first championship title.
In the Ladies A Flight, Bernie Weed repeated with her solid round of 84. She finished above Keven Lawson to reclaim her title.
And finally, in the Ladies B Flight, Denise Medlar won her third straight championship in a close match between her and Theresa Anderson.
Congratulations to all of our Champions and thank you for making this another memorable event!
Golf Results
Men's Championship Flight
| | | | | | | | |
| --- | --- | --- | --- | --- | --- | --- | --- |
| First Name | Last Name | RD 1 Total | RD 1 To Par | RD 2 Total | RD 2 To Par | 36H Total | 36H To Par |
| Austin | Barbin | 63 | -8 | 65 | -6 | 128 | -14 |
| Zach | Barbin | 69 | -2 | 70 | -1 | 139 | -3 |
| Evan | Barbin | 72 | +1 | 73 | +2 | 145 | +3 |
| Shea | Murphy | 72 | +1 | 74 | +3 | 146 | +4 |
| Andrew | Barbin Jr | 76 | +5 | 72 | +1 | 148 | +6 |
| Jeff | Medlar | 78 | +7 | 75 | +4 | 153 | +11 |
| Jason | Vanover | 81 | +10 | 78 | +7 | 159 | +17 |
| Rashad | Ferguson | 91 | +20 | 82 | +11 | 173 | +31 |
Ladies Championship Flight
| | | | | | | | |
| --- | --- | --- | --- | --- | --- | --- | --- |
| Arlene | Zamora | 81 | +9 | 83 | +11 | 164 | +20 |
| Audrey | Moon | 87 | +15 | 78 | +6 | 165 | +21 |
| Tammie | Vincenti | 90 | +18 | 81 | +9 | 171 | +27 |
| Shelly | Pinkerton | 88 | +16 | 86 | +14 | 174 | +30 |
Men's A Flight
| | | | | | | | |
| --- | --- | --- | --- | --- | --- | --- | --- |
| Tommy | Vincenti | 80 | +9 | 77 | +6 | 157 | +15 |
| Rickey | Smith | 82 | +11 | 77 | +6 | 159 | +17 |
| Earl | Mitchell | 81 | +10 | 80 | +9 | 161 | +19 |
| Chris | Ritchie | 83 | +12 | 80 | +9 | 163 | +21 |
| Mike | Fox Sr. | 77 | +6 | 87 | +16 | 164 | +22 |
| Jim | Weinzetl | 84 | +13 | 84 | +13 | 168 | +26 |
| Travis | Price | 81 | +10 | 90 | +19 | 171 | +29 |
| Al | Snyder | 84 | +13 | 89 | +18 | 173 | +31 |
Men's B Flight
| | | | | | | | |
| --- | --- | --- | --- | --- | --- | --- | --- |
| Pete | Petersen | 84 | +13 | 79 | +13 | 163 | +26 |
| Steve | Smith | 83 | +12 | 83 | +12 | 166 | +24 |
| Steve | Westerfer | 87 | +16 | 89 | +18 | 176 | +34 |
| Bobby | Whiteoak | 89 | +18 | 93 | +22 | 182 | +40 |
| Jack | Falkenstein | 87 | +16 | 96 | +25 | 183 | +41 |
| Mike | Nelles | 90 | +19 | 97 | +26 | 187 | +45 |
Men's C Flight
| | | | | | | | |
| --- | --- | --- | --- | --- | --- | --- | --- |
| Rob | Reil | 99 | +28 | 93 | +22 | 192 | +50 |
| Gordy | Kerr | 111 | +40 | 104 | +33 | 215 | +73 |
Ladies A Flight
| | | | | | | | |
| --- | --- | --- | --- | --- | --- | --- | --- |
| Bernie | Weed | 90 | +18 | 84 | +12 | 174 | +30 |
| Keven | Lawson | 99 | +27 | 97 | +25 | 196 | +52 |
Ladies B Flight
| | | | | | | | |
| --- | --- | --- | --- | --- | --- | --- | --- |
| Denise | Medlar | 106 | +34 | 103 | +31 | 209 | +65 |
| Theresa | Anderson | 119 | +47 | 108 | +36 | 227 | +83 |