Zach Barbin Wins 118th Joseph H. Patterson Cup
Zach Barbin goes 2-for-2 sweeping first two GAP Majors of the year.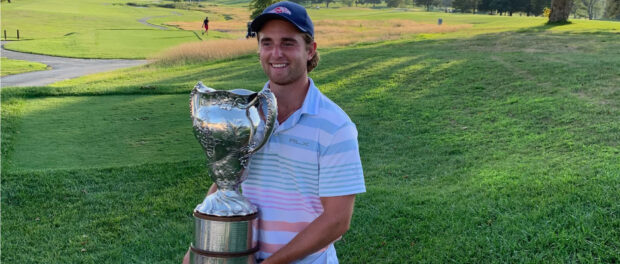 Zach Barbin Wins the 118th Joseph H. Patterson Cup
PLYMOUTH MEETING, PENNSYLVANIA. August 8, 2020 — Another one! Huge Congrats to Chesapeake Bay Golf Club and Loch Nairn member, and Liberty University senior, Zach Barbin on winning another prestigious Golf Association of Philadelphia Major, this time the 118th Joseph H. Patterson Cup.
Zach won his newest big trophy on the back of a solid performance in regulation, shooting a 3-under par 67 at the 1912 Club in Plymouth Meeting, Pennsylvania to put him in a three way playoff with defending champ Jeff Osberg of Pine Valley Golf Club and Gregor Orlando of Philadelphia Cricket Club.
History is Made
Zach's four hole aggregate playoff score of 15 (-1) outlasted Osberg's 16 (E) and Orlando's 17 (+1), making him the first ever champion hailing from a public golf course to win the 118th Patterson Cup, after being the first to win the 120th Philadelphia Amateur. He is also the first golfer in 25 years to win both prestigious tournaments in the same year.
Way to go Zach on another monster win!
Tournament Recap
All three players finished regulation at 3 under.

Both Barbin and Osberg could have captured the title outright but finished their rounds with bogeys. Orlando finished his final nine in 2 under to share the lead.

In the playoff, Osberg parred No. 1 (par 4, 480 yards) compared to a pair of bogeys by his foes.

On No. 9 (par 4, 390 yards), the second playoff hole, all three players put on a clinic. Each hitting a wedge from short distance relatively tight. All three made birdies.

The count: Osberg 7; Barbin 8, Orlando 8.

Barbin's mettle on No. 10 (par 4, 460 yards) went a long way in hoisting the sterling silver trophy at the end.

He drained a 35-foot birdie putt to draw even with Osberg.

"I hit a 9-iron from 157 yards just trying to play into the middle of the green. It's a hard shot to get back to the hole. I figured if I could make par I would be just one down or even going into 18," said Barbin, a rising senior at Liberty. "That putt was crazy. I wasn't trying to make it. I was trying to lag it. It had the perfect speed and broke about three feet."

Osberg answered Barbin's birdie with a thrilling hole-out from 30 feet off the green to save par. He missed the putting surface left before watching his chip shot run to the other side.

Barbin and Osberg entered the final hole tied at 11 strokes. Orlando, 29, of Haverford, Pa., registered a three-putt bogey. He had 13 strokes.

On No. 18 (par 4, 450 yards), Osberg found the fairway. Barbin crushed a drive that stopped just in the right rough first cut. Osberg slightly pulled a 9-iron from 154 yards that spun off the front, left portion of the green and stopped 35 feet away. Barbin hit a pitching wedge from 157 yards up-and-over a tree in his path and landed 20 feet right of the hole. Osberg putted through five feet of fairway and watched his attempt curl left-to-right on the high side of the cup and stop two feet away. Barbin charged his birdie bid a bit. He drained a knee-knocking four-footer to save par.

Then the Osberg thing happened.

"That putt coming back was really hard. I can't believe I made it," said Barbin. "It's tough to win that way. Jeff and Gregor were playing great. You want to beat the person to win, not have the guy make a mistake like that. It was a shame."

All three players have Major pedigree. Each has won an Amateur title. Orlando was triumphant in 2017. Osberg earned his Amateur in 2014, amongst his three Patterson Cup wins and two Open Championship victories.
Recap Source: gapgolf.org