Spring Open – May 7 Results
Congratulations to our winning team Rohrbaugh, Rogers, Weinzetl and Weed.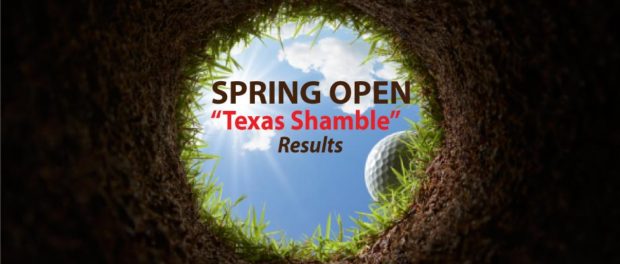 Spring Open "Texas Shamble"
Golf Results
Chesapeake Bay Golf Club's 2017 Spring Golf Open was held on Sunday, May 7, 2017 at the Rising Sun Course. The event format was a "Texas Shamble" 4 person team event. Teams selected the best tee shot, and then played their own ball in from there. Two net best balls per hole determined the team score.
A delicious Buffet was served following the round.
Congratulations to all participants and our winning team!
| | | |
| --- | --- | --- |
| 1st Place: | Gary Rohrbaugh | 110 |
| | Steve Rogers | |
| | Jim Weinzetl | |
| | Bernie Weed | |
| | | |
| 2nd Place: | Mike Nelles | 117 |
| | Don Palmer | |
| | Tom Vincenti | |
| | Tammie Vincenti | |
| | | |
| 3rd Place: | Homer Welch | 119 |
| | Bob Kern | |
| | Frank Orbin | |
| | Frank Cortazzo | |