Outing Special Offer! Golf or FootGolf
Limited Time Special Offer! Contact Us Today!
Attention Outing Representatives! Chesapeake Bay Golf Club is offering a Golf or FootGolf Outing Special that includes Golf, Cart, Meal for your Guests & Prizes!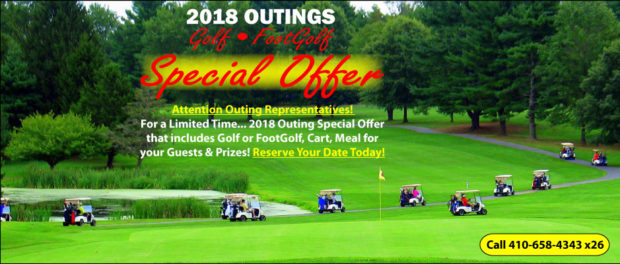 Golf Outing • FootGolf Outing Special Offer!
Request Outing Info | Contact Head Golf Professional 410-658-4343 x26
For a Limited Time…Your Choice – Golf or FootGolf Outing
Chesapeake Bay Golf Club is offering an exceptional 2018 Golf Outing Special Offer or FootGolf Outing Special Offer that includes Golf or FootGolf, Cart, Meal for your Guests, and Prizes!
Hurry – this incredible deal is a limited time special offer so Call our Head Golf Professional Brian Kramp today at 410-658-4343 x26 for full details or fill out our online "Request Outing Information" Form and a representative will return your call promptly.
Celebrating over 20 years, our experienced, professional staff will cater to your every need. Our PGA Professionals will manage and handle your event from start to finish and are experts at running and hosting golf outings. Whether you are raising money for your charity, saying "thank you" to your vendors and customers, energizing your staff, or gathering together family and friends, Golf Outings and FootGolf Outings at Chesapeake Bay Golf Club are more than just an outing, they're memories to last a lifetime.
Everyone has Access to a Fun Time!
Looking for a unique, professional, full service facility with great food for your next golf outing? Chesapeake Bay Golf Club is the place to transform your event into a tournament your players will remember!  Our championship golf course in Rising Sun Maryland offers legendary greens, traditional clubhouse, a variety of banquet and dining venue options. Our dedicated professional staff will ensure Chesapeake Bay Golf Club is the right choice for your outing – whether you are a small business, large corporation, golfing group or charitable fundraiser!  And with both Golf and FootGolf available to choose from, everyone in your group has access to a fun time – which means greater participation for an optimally successful event.
Full Service – From Start to Finish
Planning your event can be easy and fun if you have the right support.  Chesapeake Bay Golf Club offers complete consultation services so that you can focus on getting more players and sponsors. That means more money in your pocket after your tournament!
The list below includes just a few of the services that our golf professionals provide to make your tournament more fun and profitable:
Consultation on how to raise more funds for the event
Advice on event format to enhance participation and excitement
All-inclusive golf and outing packages
Championship course known for "Legendary Greens"
18 Hole FootGolf Course
A one-stop, full service facility
Delicious food with an eastern shore flair, and a variety of menu options
Design and fabrication of tournament signs
Handling of Hole-In-One Insurance purchase
Setting up overnight accommodations for your guests
Promotional advertising material for the event to be displayed at Chesapeake Bay Golf Club, our website, and Facebook pages (optional)
The latest golf equipment and apparel, as well as custom logo items from cups to shirts for giveaways
The added personal touches so the outing representative enjoys the day as much as the outing participants
Interested in learning more about how Chesapeake Bay Golf Club can decrease costs and increase revenue for your outing?  We invite you to make an appointment to come in for a free consultation, and look forward to the opportunity to host and help plan your Golf or FootGolf Outing at Chesapeake Bay Golf Club. Please contact our Head Golf Professional, Brian Kramp at 410-658-4343 x26.
Raise More Money
Our 20 Years of experience means successful outings. Whether your goal is to raise thousands for charity, or to provide fun, creative prizes (we've got tons of vendors to choose from in our pro shop), Chesapeake Bay Golf Club has you covered. Our menus will tempt your guests with delicious meals served with a variety of venue options. We pride ourselves in our attention to detail and customer service. Out goal is to provide your guests with a special day catered to your specific needs and goals.
With FootGolf, your can include more people in your outing – as no prior experience or skills are needed. That translates into raising more money for your cause.
Legendary Greens
Chesapeake Bay Golf Club is known for our "Legendary Greens" in perfect condition with a classic links style round. Conveniently located in northern Maryland off I-95 just minutes from the borders of Pennsylvania and Delaware. Chesapeake Bay Golf Club's course, facility and professional, knowledgeable staff will ensure a superb golfing experience from start to finish for your guests.
Book Your 2018 Golf Outing With Us Today!
Chesapeake Bay Golf Club would love the opportunity to host your 2018 Golf Outing and discuss our limited special offer with you in more detail. Please call 410-658-4343 x26 or fill out our Outing Interest Form. Be sure to ask about our FootGolf Outing Options as well for team building, charitable fundraising, groups & more!