Frozen Mondays – Dec 4 Results
Age 50-68: Schnell Low Gross, DesGarennes Low Net. Age 69+: Orbin Low Gross, Adams Low Net.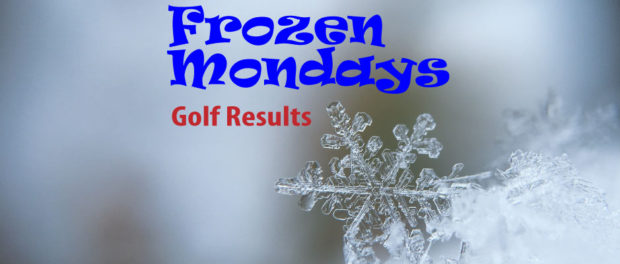 Frozen Mondays – Winter Golf League
Open to Everyone!
Frozen Mondays Info  |  Sign Up: Call Pro Shop 410-658-4343 x26
Golf Results for Chesapeake Bay Golf Club's "Frozen Mondays" winter golf league on Monday, December 4, 2017.
Our Frozen Mondays  Winter Golf League is Open to the Public for Men & Women of all ages and skill levels. Gross & Net Prizes will be awarded weekly. Fun 18 Holes of Golf Monday mornings with no commitment – just play when you can. Keep your Monday game going! It's Off-Season Fun every Monday at Chesapeake Bay Golf Club.
Golf Results – December 4
50 to 68 Age Bracket
| | | | |
| --- | --- | --- | --- |
| Low Gross: | Scott Schnell | | 77 |
| | | | |
| Low Net: | Chris DesGarennes | 68 | 68 |
| 2nd Net: tie | Bernie Weed | | 72 |
| | Keven Lawson | | 72 |
69 Plus Age Bracket
| | | |
| --- | --- | --- |
| Low Gross: | Frank Orbin | 85 |
| | | |
| Low Net: | Gary Adams | 72 |
| 2nd Net: | Tom Gurrera | 73 |
| 3rd Net: | Harold Creek | 74 |
---
Frozen Mondays Winter Golf League Details:
Golf EVERY Monday November-March (weather permitting)
Starts Monday, November 6, 2017
9:30 AM Modified Shotgun
Gross & Net Prizes
Open to Men & Women – ALL AGES
No Commitments – Play when you can
*Entry Includes Golf, Cart, Prizes*
$10 Members / $30 Non-Members