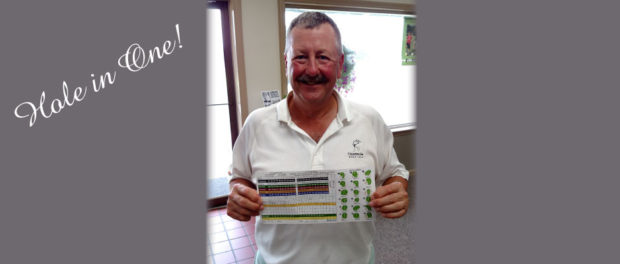 Jim Makes an Ace!
Congratulations to Jim French of Newark, Delaware who made a Hole in One on Saturday, September 10, 2016 at the Rising Sun Course! Witnessing the event were playing partners Steve Smith, and Steve Melfa. This was Jim's first ever Ace. Way to go Jim!
Details:
Chesapeake Bay Golf Club's Rising Sun Course
Saturday, September 10, 2016
Hole #2 – Par 3 – 145 yards
TaylorMade 6 Iron
Pro V1 Ball
First ever Ace
Playing partners: Steve Smith, Steve Melfa
---
Odds of Making a Hole in One
Despite the seemingly impossible odds that a person can hit a golf ball into a hole in one shot from around 150 yards, it happens all the time. Most of the quoted odds for an amateur making a hole in one are wildly off – ranging from 10,000 to 1 to 100,000 to 1.
However, the odds of an amateur golfer making a hole in one on a par 3 are roughy 12,500 to 1. The odds of a professional golfer making an ace on a par 3 hole are closer to 2,500 to 1.
So, the odds of someone making a hole in one during a golf outing with a standard field of approximately 100 amateurs, and the golf course has the standard four par 3 holes, the chances of someone in the tournament making an ace are roughly 1 in 32. Not too bad!
For a professional tournament, the chances are more likely. Most PGA Tour events have 144 players. The chances that an ace is made during a single day of the tournament are roughly 1 in 4.5. Thus the chances of a hole in one being made during a standard four day PGA Tour event are roughly 1 in 1! These guys are good!
Paraphrased from: holeinoneinsurance.com