FootGolf Soccer Team Special!
End of Soccer Season Celebration!
VALUABLE COUPONS INSIDE! FootGolf Soccer Team, Group 6-Pack, Kids Birthday Parties!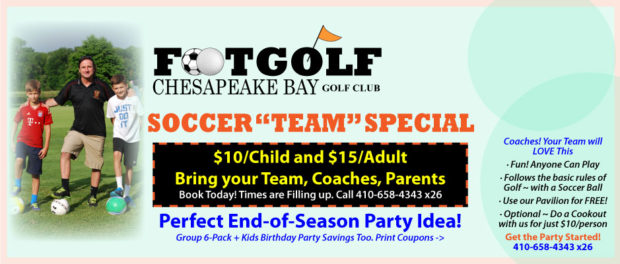 Soccer Team Special FootGolf Party Offer!
Plus Group 6-Pack / Kids Birthday Party Specials Too!
Request a FootGolf Party | Contact Sales Team 410-658-4343 x26
Attention Soccer Fans, Soccer Teams, Parents and Coaches! Celebrate your team with a fun FootGolf Party!
If you're looking for a fun way for your soccer team to bond after a great season, Chesapeake Bay Golf Club's 18 Hole FootGolf Course is the perfect solution! A super way to bring the whole team together – players, coaches, parents, siblings, and fans!
FootGolf is the fun fusion of soccer and golf – anyone can play! Chesapeake Bay Golf Club is proud to be the 1st Accredited FootGolf Course in the state of Maryland. Our exceptional course has hosted AFGL FootGolf Professional Tournaments!
Plus! Chesapeake Bay Golf Club is now offering three FootGolf Party limited time Special Offer Coupons (see flier below):
Soccer Team Special
Group 6-Pack (2 Adults Maximum)
Kids Birthday Party 20% Off Special
For a fun soccer team start or end-of-season party, kids birthday parties or just a fun day out with friends, consider a round of FootGolf! Print Flier below for awesome coupons for FootGolf Team Parties, FootGolf Group Fun, and FootGolf Kids Birthday Parties!
Soccer Team FootGolf Special:
Soccer Team Special Offer: $10/Child and $15/Adult
Bring Your Team! Players, Coaches, Parents, Siblings, Fans
Ask about our Team Fundraising Ideas
Anyone can play ~ all Ages and Skill levels
Use our Pavilion for FREE!

Optional Cookout

~ just add $10 per person that includes:

Soft Drinks
Burgers & Hot Dogs
Lettuce, Tomato, Onion, Pickles, Sliced Cheese, Ketchup, Mustard, Mayo, Relish
Chips
Creamy Mac & Cheese
Fresh House Baked Cookies!

Book your Team Celebration Today! Special Offer for a Limited Time only. Call 410-658-4343 x26 to reserve your Kick Off Date and Time.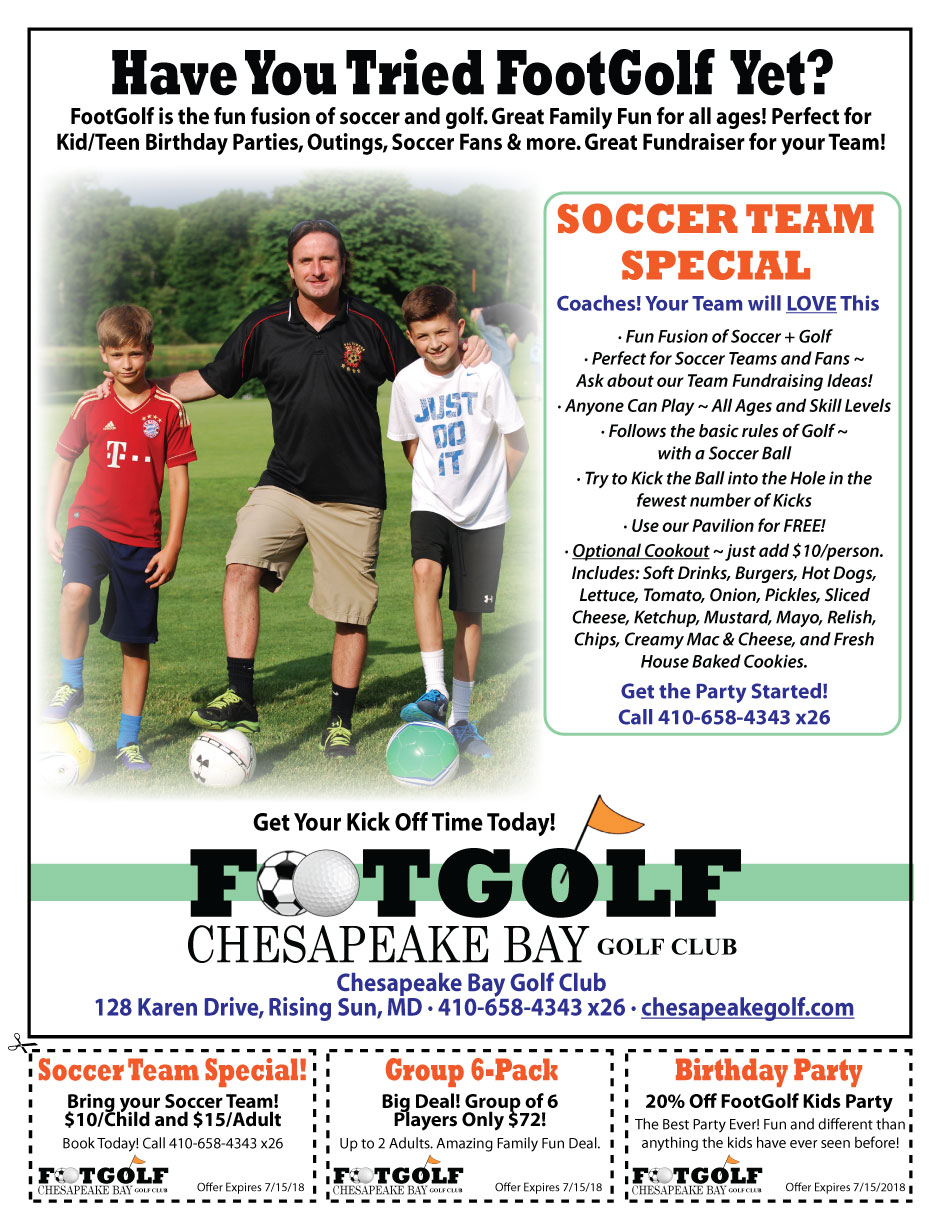 ---
FootGolf is Fun! Anyone Can Play
One of the best things about FootGolf is that anyone can play! FootGolf follows the basic rules of golf but without clubs, just a soccer ball! Try to kick the ball into the hole in the fewest kicks possible. Try to make par – 3 kicks, 4 kicks, 5 kicks! A great way to hone your soccer skills and have a fun time.
No equipment needed. Just wear your soccer gear and a pair of sneakers or turf shoes (no cleats please). FootGolf is a fun and inexpensive way to celebrate the end of the soccer season with your team and friends. Call 410-658-4343 x26 to set up your date and time today!