Mother's Day Special!
Women Get 1/2 Off Golf or FootGolf
Women Get 1/2 Off Golf or FootGolf on Mother's Day – Sunday, May 14th.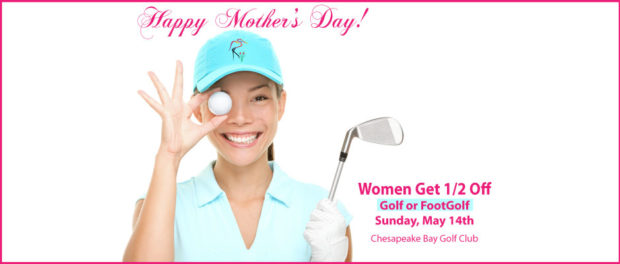 Happy Mother's Day from Chesapeake Bay Golf Club! To honor the special contributions of women everywhere, we're offering a great deal on Mother's Day – this Sunday, May 14th for women to play Golf or FootGolf at 1/2 Price! No restrictions – valid any time of day. It's your special day – relax and enjoy a fun day out on the course.
Call for Tee Time 410-658-4343 x26  |  Online Tee Time Rising Sun
Mother's Day Special
Women Get 1/2 Off Golf or FootGolf!
Mother's Day – Sunday, May 14, 2017
No restrictions – play any time

GOLF Special

: valid at Chesapeake Bay Golf Club's Rising Sun Course
Contact Pro Shop:
Pro Shop: 410-658-4343 x26
History of Mother's Day
The official Mother's Day holiday arose in the 1900s thanks to the efforts of Anna Jarvis. She conceived of "Mother's Day" as a way of honoring the sacrifices mothers made for their children. After gaining financial backing from Philadelphia department store owner John Wanamaker, in May 1908 she organized the first official Mother's Day celebration at a Methodist church in Grafton, West Virginia. That same day thousands of people attended a Mother's Day event at one of Wanamaker's retail stores in Philadelphia.
Following the success of her first Mother's Day, Jarvis—who remained unmarried and childless her whole life—resolved to see her holiday added to the national calendar. She started a massive letter writing campaign to newspapers and prominent politicians urging the adoption of a special day honoring motherhood. By 1912 many states, towns and churches had adopted Mother's Day as an annual holiday, and Jarvis had established the Mother's Day International Association to help promote her cause. Her persistence paid off in 1914 when President Woodrow Wilson signed a measure officially establishing the second Sunday in May as Mother's Day.
Source: history.com