Father's Day Pro Shop Sale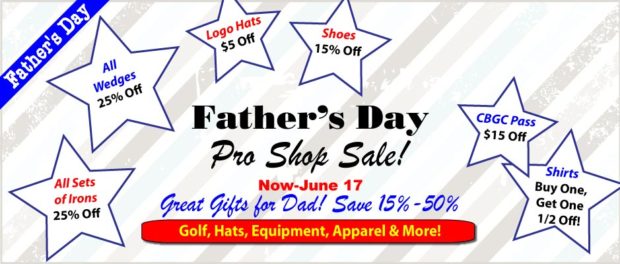 Father's Day Pro Shop Sale

Great Gifts for Dad! Save 15%-50% thru June 17
Contact Pro Shop 410-658-4343 x26
The #1 Wish Dad Wants for Father's Day? A day out on the Golf Course!
It's Chesapeake Bay Golf Club's Father's Day Pro Shop Sale now through June 17 in the Pro Shop. Looking for the perfect gift for that special Dad in your life? We've got you covered – from Golf, to Equipment, Hats, Apparel and More. Give Dad what he wants this Father's Day! Gifts to make Dad play more and to look great on the golf course.
Our Top Gift for Father's Day this year is the 2018 CBGC Golf Pass – $15 Off Special Offer!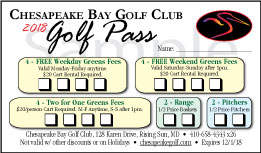 Father's Day Pro Shop Sale + Gift Guide
All Wedges –

25% Off

All Carry Bags –

15% Off

All Sets of Irons –

25% Off

Golf Shoes –

15% Off

Shirts –

Buy One Shirt, Get One 50% Off

Any Logo Golf Hat –

$5 Off

2018 Victory Golf Pass book – Sold in the Pro Shop or Online

1 for $43 –

22% Off Cover

2-3 for $40 each –

27% Off Cover

4+ for $37.50 each –

32% Off Cover

$15 Off 2018 CBGC Pass!

12 Golf Deals (Weekday, Weekend, 2-for-1), Range, Pitchers
Regularly $59 – Now just $44
Buy Online Here or in the Pro Shop
Offer Valid Now-June 17th

2018 Victory Golf Pass + 2018 CBGC Golf Pass Bundle –

$80 (30% Off!)

Pro Shop Only – Special Offer!
Get a 2018 Victory Pass + a 2018 CBGC Golf Pass Bundle for $80
Already have a Victory Golf Pass? Show it at the counter and get a Chesapeake Pass for $40 and vice-versa.
Offer Valid Now-June 17th

Chesapeake Bay Golf Club Gift Cards!

Available in any amount
Always the perfect gift!
Online Form or Call Pro Shop