St. Patrick's Day Golf Tournament
S. Patrick's Day Golf Tournament SATURDAY, March 14th! Fun Format + Buffet Included.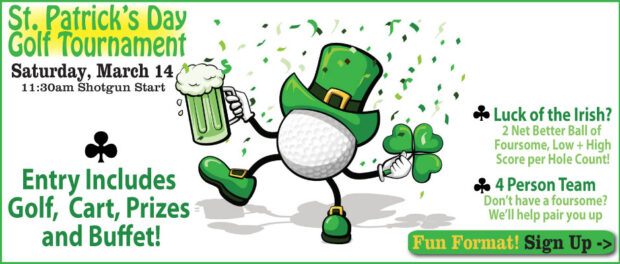 Luck of the Irish
St. Patrick's Day Golf Tournament
Saturday, March 14 ♣ Check In 11:00 ♣ Shotgun 11:30
Sign Up Online ♣ Call Pro Shop 410-658-4343 x2
Tournament Details
Saturday, March 14 at Chesapeake Bay Golf Club
Shotgun Start – 11:30 am
4 Person Teams

Don't have a foursome? Sign up as individual and we will help get you a team

Members $20.00 plus normal golf rate
Public $55.00 per person
Includes Golf, Cart, Prizes and Buffet
Tournament Prizes Paid in Gift Cards
Optional $20 Team Skins (Cash Payout)
Kick Off St. Patrick's Day early – Be sure to wear your Green!
Sign up by calling the Pro Shop 410-658-4343, ext 2
Buffet Menu
Lucky Chicken
"Green" Beans
Irish Roasted Potatoes
Bailey's Irish Cream Brownies
Green Beer ~ Offered at Member Pricing
Tournament Format – Luck of the Irish?
The format is 2 Net Better Ball of foursome – with the low and high score per hole counted.
For Example: If Player A scores a 3, Player B scores a 5, Player C scores a 8, and Player D scores a 5, you combine Player A's 3 and Player C's 8 for a combined score of 11.
Course Rules:
2020 U.S.G.A. Rules govern the play of this tournament.
Players May Lift Clean and Place (1 score card length) through the Green
Maximum Score on a hole– Double Par
If there is any doubt on how to determine a rule, play 2 balls:

Play original ball where it lies.
Play 2nd ball how you determined rule.

NEW LOCAL RULE in PLAY:

Provides an alternative to stroke-and-distance relief for a ball that is lost outside a penalty area or out of bounds.
You can still take stroke and distance relief, but you may also take a penalty of 2 strokes by determining the spot where your ball went out of bounds or likely to be lost, find nearest fairway edge – no closer to hole and take 2 club lengths.

Penalty Areas are marked Red:  on holes #1, #2, #5, #6, #7, #8, #9 #10, #11, #12, #14, #17, #18.
Out of Bounds is defined by inside edge of white stakes left on Holes #1, #3, #4, #11, #12, #14, #15, #16.