APROach Golf Fall Classic
Sign Up for this unique 9 Hole Short Game Experience!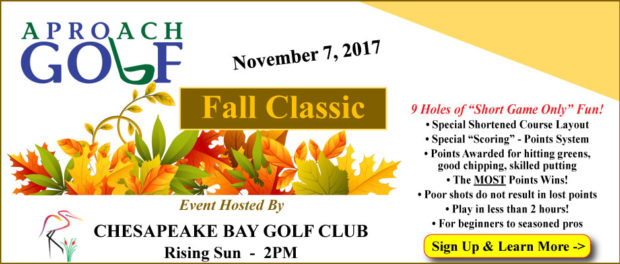 APROach Golf Fall Classic
9 Hole – Short Game Fun Event!
November 7, 2017 at Chesapeake Bay Golf Club
2PM Start Time. Open to the Public!
Join us November 7th, for an afternoon of fun and excitement with a new shortened course concept to golf that includes a unique "scoring" points system. Sharpen your short game skills in a competitive environment! The MOST points wins!!
Fall Classic – 9 Holes of "Short Game Only" Fun!
Special Shortened Course Layout
Special "Scoring" – Points System
Points Awarded for hitting greens, good chipping, skilled putting
The MOST Points Wins!
Poor shots do not result in lost points
Play in less than 2 hours!
For beginners to seasoned pros
Details / Sign Up / Registration Information:
Tuesday, November 7, 2017 at Chesapeake Bay Golf Club
2PM – Short Game Clinic
Shotgun Start – following clinic & rules review
$39 Registration Fee includes:

9 Hole Greens Fee & Cart
Player Gift
Light Hors D'Oeuvres after play (Cash Bar)
Prizes and Awards
Photo opportunity
To Register Please Email or Call:
Mark Weiss – Tournament Chairperson
302-547-4927 or mark@homecoursecreators.com
Call Chesapeake Bay Golf Club Pro Shop: 410-658-4343 x26 ask for Brian
Pay online: paypal.me/LinksWorldwide/39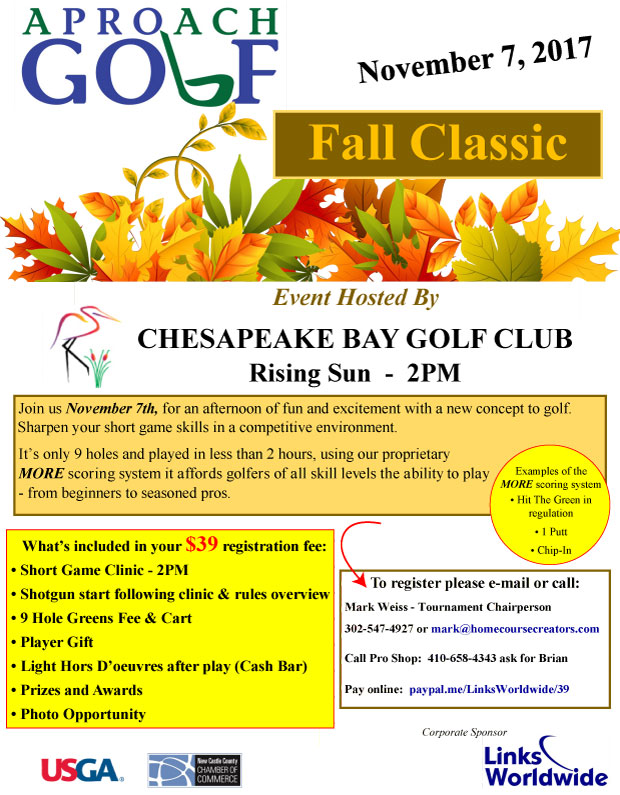 What is the APROach Golf Experience?
APROach Golf ("AG") uses a shortened layout played on a regulation golf course. Traditional tee boxes are not used. Special AG tee markers are laid out on each hole within reach for all golfers from a wide variety of locations and distances.
As such, these tee markers can be in the fairways, rough, and in bunkers. AG focuses on using short game skills! Reducing the length of each hole also reduces the time to play 9 holes.
Source: homecoursecreators.com