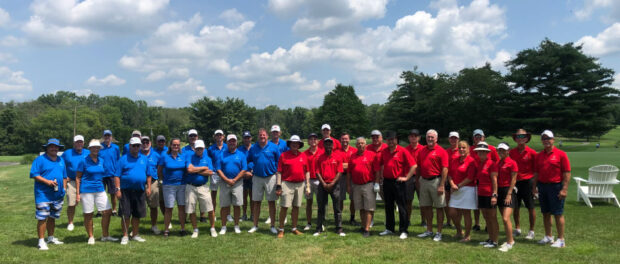 Huge congrats to Team Chesapeake over their decisive 20.5 to 15.5 win over Team Chantilly in the 2020 Barbin Cup! This great team event, inspired by the old Chesapeake vs Horsham Valley matches, has become a favorite among our membership.
Captains Andy Barbin Sr. and Andrew Barbin Jr. drafted 17 members each to form teams of 18 players. Members were then teamed up for the first and second 9 hole matches, the first being alternate shot and the second being better ball. We then had lunch and announced our individual matchups for the final 9 holes.
Team Chesapeake, backed by strong performances in alternate shot and in individual play, came on top. Last year was the first year of the new format Barbin Cup, which ended in a tie.
Thank you to all of our members that played and made it such a fun event! We look forward to next year's Cup!
Team Chesapeake (in red):
*Captain Andrew Barbin Jr.
*Zach Barbin
*Rashad Ferguson
*Shea Murphy
*Jason Vanover
*Jeff Medlar
*Earl Mitchell
*Rickey Smith
*Audrey Moon
*Jim French
*Steve Smith
*Jim Weinzetl
*Justin Eldreth
*Bernie Weed
*Mike Nelles
*John Baynes
*Denise Medlar
*Theresa Anderson
Team Chantilly (in blue):
*Captain Andy Barbin Sr.
*Austin Barbin
*Evan Barbin
*Eric Walters
*Tommy Vincenti
*Mike Fox
*Al Snyder
*Dick Hall
*Pete Petersen
*Mark Thompson
*Bob Hawke
*Jack Falkenstein
*Don Palmer
*Mark Sabla
*Keven Lawson
*Jack Baldino
*Gordy Kerr
*Linda French