Arlene Zamora Has Historic Summer
Clean sweep of the DWGA, winning both the Senior Amateur and Amateur Titles for the first time ever by any golfer.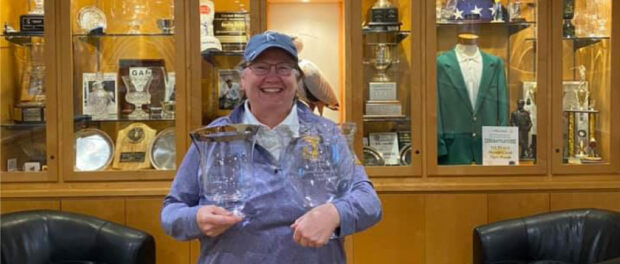 It's no secret that the membership at Chesapeake Bay Golf Club in Rising Sun boasts some serious talent and has been at the pinnacle of local golf competitions for a long time.  On the men's side, Chesapeake Bay Golf Club at one point last year held every junior and amateur GAP (Golf Association of Philadelphia) trophy with Austin Barbin winning the GAP Junior and the Christman Cup, and Zach Barbin winning the Philadelphia Amateur and the Patterson Cup.  Austin and Evan Barbin combined have won three consecutive Delaware High School Boys State Championships, and that's just a drop in the bucket of the Barbin family's triumphs at the professional, amateur, collegiate, and junior levels.  Other members, such as Jeff Medlar, Nikita Romanov, and Brandon Wilson have also had major success at the amateur and collegiate level as well.  Jeff placed top-10 in the Delaware Mid-Amateur last year and had solid showings at other DSGA and MSGA events.  Nikita is a standout junior at La Salle and Brandon Wilson leads Dickinson's golf program as well, both with significant success at the collegiate and local amateur levels.
However, the recent domination of the local golf circuit by the men is just a fraction of the accolades the club has earned over the years.  The ladies of Chesapeake Bay Golf Club have dominated MSGA and DSGA golf for the better part of three decades – winning several GAP, MSGA, and DSGA team events among several victories individually.  Just this year alone, Keven Lawson won the Maryland State Mixed Doubles Championship with fellow member Pete Petersen, as well as a runner-up finish in her flight at the Delaware Women's Amateur.  Bernie Weed won the second flight of the Amateur championship as well, and both her and Keven won the DWGA Bash to the Beach last year.  However, the forefront of Chesapeake Bay Golf Club's success has always been Arlene Zamora.  Zamora has dominated women's golf in the area since the 90s, winning Chesapeake Bay Golf Club's Ladies' Club Championship 12 times among being the ace for every inter-club victory in the GAP, MSGA, and DSGA matches, among several individual victories ranging from the 2003 Maryland Public Links Championship to several Delaware Senior Amateur Championships.  But this year, Zamora has gone on an absolute tear that has gone from a career year to something that's nothing short of historic.
The streak started with the DWGA's Bash to the Beach at Kings Creek Country Club, in which she and fellow CBGC-Member Shelly Pinkerton cruised to a 4-stroke victory in the championship flight – making this the second straight victory for Chesapeake Bay Golf Club (as the aforementioned Bernie Weed and Keven Lawson won in 2020).  Two weeks later, Zamora traveled back to the Rehoboth Beach area for the Delaware Senior Amateur at Cripple Creek Golf & Country Club to defend her title.  Arlene fought rain and wind to be the only golfer to shoot scores in the 70s, and her matching 78s were good enough for a four-stroke victory.
Zamora and Shelly Pinkerton continued to prove to be an unstoppable duo, as they took first net at the Solheim Cup Tournament at Heritage Shores, giving team Chesapeake 3 out of 3 DWGA Tournaments up to this point.  The only tournament remaining was the 69th Women's Amateur Championship at Rock Manor, a tournament Zamora had not won in her career.  But this time, Arlene pulled through with yet another 4-stroke victory over Reagan Garnsey, who had just won the DSGA Delaware Girls' Junior Amateur.  Zamora's clean sweep of the DWGA is the first time that any golfer won both the Senior Amateur and the Amateur, let alone winning both team events as well.
However, while Zamora had completely dominated Delaware, she shifted her focus to the Maryland State Senior Amateur Championship at Oak Creek Golf Club.  Arlene got off to a magical start, recording two birdies and a hole-in-one on the 8th hole en route to a 2-under par 34 front 9.  She followed her 34 up with a 39 for a first round score of 73 to lead the entire tournament by two-strokes.  Unfortunately, her incredible run was hampered by trouble on the 9th and 12th holes and she finished runner up to Breton Bay's Kimbra Benson.
While it seems like Zamora has already accomplished a lifetime's worth of accolades in a single season, she's not quite done yet.  She still has a few tournaments planned on the schedule, and she still looks to defend her Player of the Year Title at Chesapeake Bay Golf Club, in which she leads in points for yet another season.  And if there's anything that's guaranteed, it's that she will be somewhere at the top of the leaderboard!
---
By: Andrew Barbin, Jr