2022 PGA Junior League – Summer Season
New Summer Golf League for Kids! Sign Up Today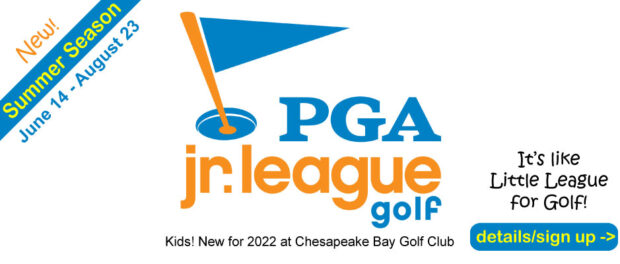 PGA Junior League
Summer Season at Chesapeake Bay Golf Club
After a successful spring season in which we had 10 juniors for the Age 17 & Under division, and 8 for the Age 13 & Under division, Chesapeake Bay Golf Club is happy to announce that we will have a summer season for the PGA Junior League! For those who haven't heard of it – it's essentially Little League for golf!
Details:
PGA Junior League at Chesapeake Bay Golf Club starts June 14th and runs until August 23rd

Practices

: The summer league will have practice every Tuesday at 4pm to 5:30pm featuring mentorship and instruction from our experienced and talented professional staff

Competitive Matches

: We will also be hosting and traveling to other clubs throughout the season to compete against other teams (primarily on Sundays)

Cost

: The cost for the league is $399 per player ($300 in coaching and facility fees + $99 annual fee to PGA).  Junior golfers who played in the spring season will get $50 off the coaching/facility fee, as well as the annual fee being waived (as it was paid when you signed up online for the league).
The PGA Junior League is a great way to get your child learning and playing golf throughout the summer!
To sign up, go the following links:
Age 17 and Under Registration link
Age 13 and Under Registration link
If you have any questions, call Andrew at 410-658-4343 x3