2022 Junior Club Champions
Evan Barbin wins Fifth Straight Title
Cecil's next generation of Golf Stars shined bright!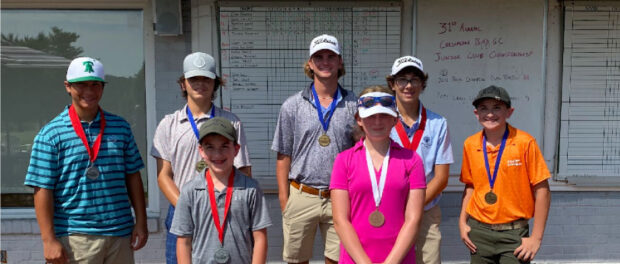 Chesapeake Bay Golf Club's
31st Annual Junior Club Championship Results
Chesapeake Bay Golf Club hosted its 31st Annual Junior Club Championship on Thursday, July 21, 2022. Open to all Cecil County golfers and junior members of the club, the Junior Club Championship always proves to be a great preview of the upcoming county golf season, while also showcasing the next generation of Cecil golf stars. And the 2022 iteration of Cecil County's oldest junior golf tournament was not short on star power, featuring two state champions as well as several starters on North East and Rising Sun's 2022 squads.
The Boy's Championship division was headlined by 2022 Delaware Golfer of the Year and incoming freshman commit to #32 ranked Liberty University Evan Barbin, as well as the 2021 Maryland 1A/2A State Champion Noah Wallace. Evan Barbin's prodigious length and accuracy was on full display as he outclassed the field on his way to a score of 1-under par 70, beating Wallace by 8 strokes in the 18-hole contest in what will likely be the pair's final competition against each other as junior golfers.
Barbin's steady onslaught of pars and birdies gave him a comfortable early lead over Wallace through their head-to-head matchup. Despite Wallace's efforts to close the gap, his rocky start kept him from making up substantial ground to the unyielding youngest Barbin  brother. Evan Barbin's 2022 winning score of 70 was actually his second worst score out of his five junior titles, going 71-69-62-68-70 for a career total of 15-under par. His 62 in 2020 is still the lowest score ever shot in competition at Chesapeake Bay Golf Club / Chantilly Manor.
Brandon Cohee of Elkton took third with his score of 93. Jake Eckman and Johnny Waldridge struggled on the back 9, but still showcased their tremendous and quick improvement as they look to become senior leaders for Rising Sun.
Evan Barbin's win also completed a career sweep of the tournament with his fifth straight Junior Club Title, as well as the "Barbin Sweep" – a stretch of eleven consecutive years in which a Barbin brother has won Chesapeake Bay Golf Club's junior title. Andrew Barbin, Jr won the overall championships in 2012 and 2013, followed by four consecutive wins by Zach Barbin from 2014 to 2017, and then five straight by Evan Barbin from 2018 through 2022. The penultimate Barbin brother, Austin Barbin, has never won the event, but has won six of the last eight Men's Club Championships dating back to 2014.
Despite the Barbin Era of Cecil County junior golf coming to a close, the future of county golf is looking brighter than ever. The 13-15 division howcased an extremely talented freshman class, featuring an exciting and budding rivalry between North East's Wyatt Cudmore an Rising Sun's Lucas Kilgore. Wyatt, who won the previous head-to-head matchup with Lucas at the Delaware Junior Amateur Championship, doubled up with a victory in the 13-15 age division. Cudmore's score of 42 featured rock-solid play and strong fundamentals as he prepares to join what could be the most dangerous lineup in the state. Lucas Kilgore showed glimpses as to why he's the most exciting prospect Rising Sun has had since Ben Adams. Owen Duffy and Cole Dacey, both incoming freshman at St. Mark's, also posted an impressive outing with Owen taking runner up with his score of 46, and Cole take fourth with a score of 56. Caiden Jordan, also an incoming freshman at Rising Sun, shot 61 and another up-and-coming star Luke Cheuvront played up a division and scored a 60 to round out the scoring.
The boys 9-12 division also highlighted an extremely promising group of young golfers, with Evan Smith headlining the group. Smith, 11, is the ace of Chesapeake's 13U Junior League team and is an exceptional talent who also boasts a terrifyingly high golf IQ. A well-rounded golfer who has great fundamentals and ice in his veins, Smith won the 7-hole contest by thirteen strokes with his 3-over score of 30. Joel Vogt of Rising Sun and Brandon Cantrell of Port Deposit finished second and third respectively with their scores of 43 and 44, both players poised for great golf careers in their near future. Derrick Gabbert rounded out the scoring with a 51, highlighted by his great shot onto the par 3 15th hole and his close miss at par.
Rounding out the winner's circle was our 9-12 girl's champion Isa Phillips, who showed great fundamentals and promise as Cecil County's next top girl's golfer. Isa's advanced short game and strong swing mechanics allowed her to achieve her goals of finishing every hole under double-par and nearly have the second-best score of the whole 9-12 group.
Boys Championship Division:
(played 18 Holes)
| | | | |
| --- | --- | --- | --- |
| Place | Name | Score | To Par |
| 1st | Evan Barbin | 70 | (-1) |
| 2nd | Noah Wallace | 78 | (+7) |
| 3rd | Brandon Cohee | 93 | (+22) |
| T-4th | Johnny Waldridge | 98 | (+26) |
| T-4th | Jake Eckman | 98 | (+26) |
Boys 13-15 Division:
(played 9 Holes)
| | | | |
| --- | --- | --- | --- |
| Place | Name | Score | To Par |
| 1st | Wyatt Cudmore | 42 | (+6) |
| 2nd | Owen Duffy | 46 | (+10) |
| 3rd | Lucas Kilgore | 49 | (+13) |
| 4th | Cole Dacey | 56 | (+20) |
| 5th | Luke Cheuvront | 60 | (+24) |
| 6th | Caiden Jordan | 61 | (+25) |
Boys 9-12 Division:
(played 7 Holes)
| | | | |
| --- | --- | --- | --- |
| Place | Name | Score | To Par |
| 1st | Evan Smith | 30 | (+3) |
| 2nd | Joel Vogt | 43 | (+16) |
| 3rd | Brandon Cantrell | 44 | (+17) |
| 4th | Derrick Gabbert | 51 | (+24) |
Girls 9-12:
(played 7 Holes)
| | | | |
| --- | --- | --- | --- |
| Place | Name | Score | To Par |
| 1st | Isa Phillips | 45 | (+18) |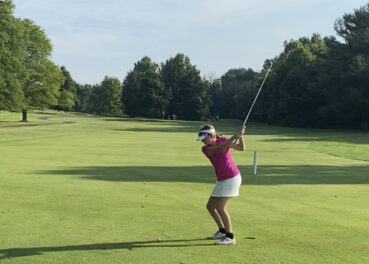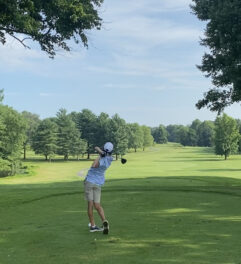 ---
By: Andrew T. Barbin, Jr., PGA – Head Golf Professional at Chesapeake Bay Golf Club