President's Cup Rd 2: Mullin vs Rohrbaugh
Video recap of Brian Mullin and Gary Rohrbaugh's round 2 President's Cup match.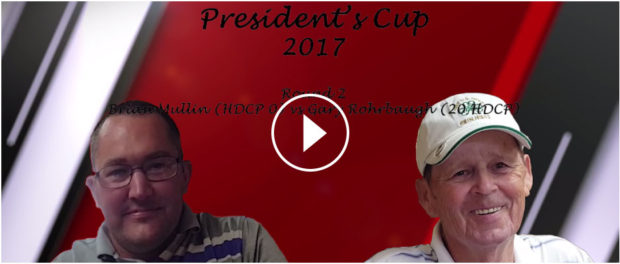 President's Cup 2017: Brian Mullin vs Gary Rohrbaugh

Here's a recap video of a President's Cup second round match between Brian Mullin and Gary Rohrbaugh. It was an exciting back and forth match!
The Harry C. Barbin Jr. President's Cup is one of the few big tournaments we have here at the golf course. It is a match play tournament that we hold every year, and is consistently one of our finest events. It is a net tournament as well, which allows players to compete on an even playing field. Round 2 is wrapping up very soon. Click Here for President's Cup Details.
Competitors that have made it to the sweet 16: Brian Mullin, Steve Smith, Shelley Pinkerton, Austin Barbin, Mark Sabla, Steve Rogers, Larry Steward, Homer Welch, Andrew Barbin Jr., and Rickey Smith.
Round 2 matches that need to be completed:
Jack Baldino vs Al Snyder
Zach Barbin vs Joe Scott
Don Palmer vs Pete Peterson
Frank Orbin vs Dave Whitlock
Andy Barbin Sr. vs Steve Westerfer
Bob Whiteoak vs Jim Weinzetl
Past President's Cup Champions:
2016: Jack Baldino
2015: Frank Orbin
2014: Carlos Coleman
2013: Chuck Martin (5)
2012: Arlene Zamora (2)
2011: Tracie Martin (2)
2010: Tracie Martin (1)
2009: Earl Mitchell
2008: Arlene Zamora (1)
2007: Chuck Martin (4)
2006: Chuck Martin (3)
2005: Marty Davis
2004: Mike Chambers
2003: Susan Eichler
2002: Chuck Martin (2)
2001: Chuck Martin (1)
2000: Bill Cooper
1999: Dick Civita
1998: Chris Meekins
1997: George Tucker
1996: Wayen Racine
1995: Ed O'Rourke
1994: Dave Nolan
---
CBGC TV
Like us on Facebook for a first look at our latest videos and updates from CBGC TV! A special thanks to Andrew Barbin, Jr. for putting together our weekly video series.