2020 Junior Club Champions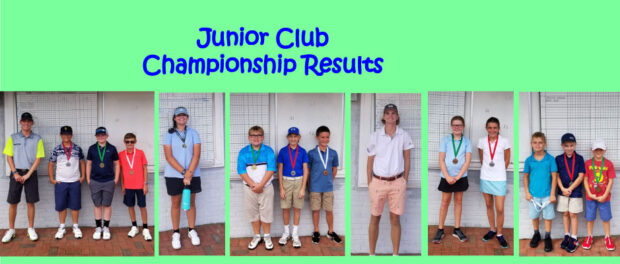 Evan Barbin Sets Course Record 62 from White Tees!
2020 Junior Club Championship Golf Results
We had an awesome turnout for the 29th Annual Junior Club Championship here at Chesapeake Bay Golf Club! Despite the rainy conditions, the area's best junior golfers came out and put on a show.
On the boys side, standout junior Evan Barbin fired a ridiculously low score of 62 in his rout of the Championship flight. His dominant round of 9-under par consisted of 10 birdies, 7 pars, and a bogey. His 62 shattered not only Chesapeake Bay Golf Club's course record from the White Tees, but also the Junior Club Championship record set by his older brother Zach Barbin by an outstanding 7 strokes.
Finishing behind Evan in 2nd Place was Jacob Boyce, whose solid round of 75 would have won many junior championships in the past. Jacob's highlight was a hole out for eagle on the first hole from 120 yards. We had a three way tie for third place at 86, with Mike Boyce edging out North East HS sibling dynamic duo Matt and Noah Wallace in a match of cards. Following close behind was Conor Najera, the 13-15 champ from last year with 88.
On the girls side, Karina Serio posted a great score of 107 to clinch the Girls Club Championship honor.  Karina, despite being 14, opted to play in the championship flight. Very solid debut!
Owen Duffy, a 12 year old, took home the Boys 13-15 title with a solid score of 59 through 9 holes, outlasting Lucas Parks and Sean Snyder's scores of 64.
On the Boys 9 – 12 side, Zack Sullivan claimed his 4th career championship title with a dominant score of 33 through 7 holes.  Following behind him was Caiden Jordan's score of 42 and Evan Judy's score of 43.
On the Girls 9 – 12 side, Kate Judy's great score of 42 through 7 holes bested Caitlyn Onizuk's 49 to take the title.
On the Boys 6 – 8 division, Camden Colangelo posted an awesome score of 23 through 5 holes, winning over Ben Revie's score of 30, and Davis Lehr's 33 to take the first title of what should be a great trio to watch for years to come!
Thank you again to all of the participants who made it an awesome event and we look forward to seeing everyone around!