Congratulations to all participants and this year's winners!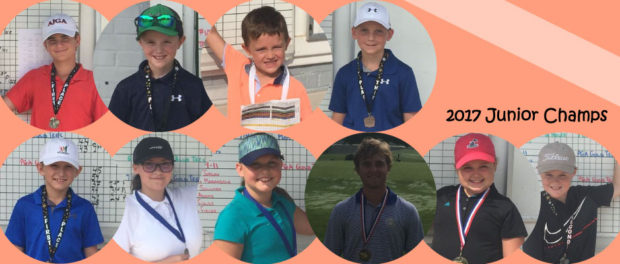 RESULTS
CHESAPEAKE BAY GOLF CLUB
2017 JUNIOR CHAMPIONSHIP
Wednesday, August 16, 2017
Congratulations to our 2017 Junior Club Champions!
In the Boys 16-18 division (18 holes), Liberty University commit Zachary Barbin notched a five-shot victory over his brother Austin Barbin. Zach made seven birdies en route to his eleventh junior club title. Zach's 69 (-2) tied the junior club record he set back in 2014.
In the Girl's 14-15 division (9 holes), Amanda Glidewell won with an 83.
In the Boy's 12-13 division (9 holes), Evan Barbin shot a 33 (-2). Evan birdied holes 6, 7, and 8 to lead him to his twelve shot victory over Johnny Fields' 45. This marks Evan's sixth junior club championship title.
In the Boy's 9-11 division (7 holes), Zach Sullivan shot a 37 to win his third straight junior club championship title over Ben Fields' 41 and Ben Adams' 44.
In the Girl's 9-11 division (7 holes), Camryn Smith's 43 outlasted Abby Zeaushus' 44 to defend her title. An excellent battle from start to finish!
In the Boy's 6-8 division (5 holes), Jaxon Phillips shot a 42 to win his age bracket.
Boys:  Age 16 – 18 (18 Holes)
| | | |
| --- | --- | --- |
| 1st Place: | Zach Barbin | 69 |
| 2nd Place: | Austin Barbin | 74 |
| 3rd Place: | John Pinder | 101 |
| 4th Place: | Caleb Pinder | 117 |
Girls:  Age 14 – 15 (9 Holes)
| | | |
| --- | --- | --- |
| 1st Place: | Amanda Glidewell | 83 |
Boys:  Age 12 – 13 (9 Holes)
| | | |
| --- | --- | --- |
| 1st Place: | Evan Barbin | 33 |
| 2nd Place: | Johnny Fields | 45 |
| 3rd Place: | Emmanuel Elvy | 70 |
| 4th Place: | Josh Pace | 79 |
| 5th Place: | John Kennedy | 83 |
Girls:  Age 9 – 11 (7 Holes)
| | | |
| --- | --- | --- |
| 1st Place: | Camryn Smith | 43 |
| 2nd Place: | Abbey Zeauskus | 44 |
Boys:  Age 9 – 11 (7 Holes)
| | | |
| --- | --- | --- |
| 1st Place: | Zach Sullivan | 37 |
| 2nd Place: | Ben Fields | 41 |
| 3rd Place: | Ben Adams | 44 |
| 4th Place: | Caiden Jordan | 45 |
| 5th Place: | Drew Fields | 49 |
| 6th Place: | Jeremy Marandola | 54 |
Boys:  Age 6 – 8 (5 Holes)
| | | |
| --- | --- | --- |
| 1st Place: | Jaxon Phillips | 42 |