Team Zamora/Pinkerton win Low Gross (185), Mitchell/Weinzetl take Low Net (172).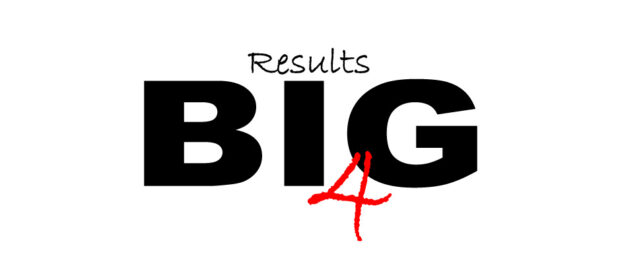 The Big 4 Tournament Golf Results
Chesapeake Bay Golf Club's Big 4 Tournament was held Saturday & Sunday, August 22-23, 2020. This was a member event with two person teams, and Gross & Net prizes were awarded.
The Format was to play 4 Nines. 1st Round – Best Ball of Partners and Scramble, 2nd Round – Alternate Shot and Combined Aggregate. Team score was determined by adding the 4 Nines. 80% of combined team handicap was used to determine Net Score per 9 Holes.
Big 4 – Golf Tournament Results:
EVENT
TEAM
SCORE
1st BB Gross
A.Barbin
34
R.Ferguson
1st BB Net
E.Mitchell
30
J.Weinzetl
1st Scramble Gross
A.Zamora
34
S.Pinkerton
1st Scramble Net
B.Weed
34
K.Lawson
1st Aggregate Gross
E.Mitchell
77
J.Weinzetl
1st Aggregate Net
A.Zamora
72
S.Pinkerton
1st Alternate Gross
A.Zamora
37
S.Pinkerton
1st Alternate Net
C.Mcclaskey
38
M.Bailey
1st Gross
A.Zamora
185
S.Pinkerton

2nd Gross

C.Mcclaskey
189
M.Bailey

3rd Gross

L.Najera
200
C.Najera
1st Net
E.Mitchell
172
J.Weinzetl
2nd Net
P.Petersen
179
J.Falkenstein
3rd Net
B.Weed
183
K.Lawson
Team Scores:
TEAM
BETTER BALL
SCRAMBLE
AGGREGATE
ALTERNATE SHOT
TOTAL
E.Mitchell
35/30
35/35
77/68
41/39
188/172
J.Weinzetl
P.Petersen
39/31
37/35
87/74
43/39
206/179
J.Falkenstein
To.Vincenti
37/34
34/34
85/77
41/39
197/184
J.French
Ta.Vincenti
37/33
35/35
87/78
42/39
201/185
A.Moon
B.Weed
41/34
36/34
86/72
49/43
212/183
K.Lawson
A.Zamora
36/33
34/35
78/72
37/35
185/175
S.Pinkerton
J.Medlar
38/33
35/35
98/81
49/45
220/194
D.Medlar
A.Barbin
34/34
34/37
W/D
W/D
W/D
R.Ferguson
C.Mcclaskey
36/35
35/36
80/79
38/38
189/188
M.Bailey
L.Najera
39/35
35/36
85/77
41/39
200/187
C.Najera
S.Smith
39/32
42/42
84/72
45/42
210/188
M.Sabla