12 Days of Christmas
Daily Facebook Giveaway! December 8-19
It's CBGC's "12 Days of Christmas" Facebook Giveaway! Prizes awarded daily – Gifts up to $60. Runs Dec 8-19 on Facebook!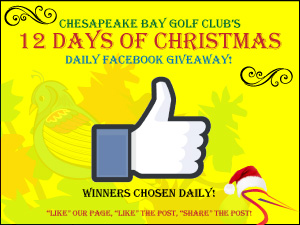 Chesapeake Bay Golf Club's
12 Days of Christmas Daily Facebook Giveaway!
We're giving away lots of cool stuff! Get in on the fun and share with your friends! Each day we'll post a new giveaway item – great golf gifts and merchandise will be offered. Entering is free and easy! Please see details on how to enter each day below:
How to Enter:
You Must: "Like" our Page, "Like" the Post and "Share" the Post by 7pm and you're automatically entered to win that day's item.
NOTE: You must "SHARE" the post in order to be eligible to win!
Qualifying Winning Names will be randomly drawn each day and announced the next day on Facebook.
Winners must contact Chesapeake Bay Golf Club directly to claim their prize by calling 410-658-4343 x26.
Chesapeake Bay Golf Club's 12 Days of Christmas Facebook Giveaway will run on Facebook from December 8-19, 2018.
Tell your friends to "Like" Chesapeake Bay Golf Club! Daily prizes range in value up to $60! Incredible cool items that are hand picked and perfect for any golfer!