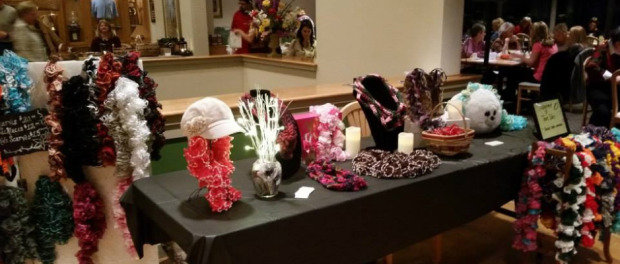 Over 70 ladies joined us for our Ladies Night "Seasonal Décor and Gifts" on Tuesday, Oct. 28th.  During the mingling hour, ladies helped themselves to the Blue Heron Reception Table consisting of Crudité Vegetables & Dips, Artisan Cheeses, Charcuterie Meats, and a Variety of Olives & Tapenades accompanied by Crostini & Pita Points.  Guests also browsed the vendors' seasonal merchandise from ceramics and baskets to elegant, handmade scarves.
Next Ladies Night "On a Christmas Note" ~ Tuesday, December 9
Reservations are Required 410-287-0200 x11
Dave and Karen Jackson from Day Basket Company (North East/Elkton) presented a brief overview of how baskets can be used in your holiday decorating and gift giving.  Brianne Ellis and Richard Mitchell from Ceramics Galore (Elkton) and Liz Engelberth from Elegant Expressions (North East) were also among the vendors.  The mouth-watering meal continued with Butternut Squash Bisque and Sliced Turkey Roulade, Filled with Sweet Cranberry Herbed Corn Bread Stuffing over Sherry Wine Sauce, Served with Medley of Steamed Farmers Vegetables &  Candied Sweet Potatoes.  For dessert, Molten Chocolate Turtle Bundt Cake with Pumpkin Pie Ice Cream delighted all as a tribute to National Chocolate Day.
We are looking forward to our next Ladies Night, "On a Christmas Note," on Tuesday, December 9, 2014.  Guests will enjoy live musical performances and savory and sweet culinary stations aside our cozy fireplace in our beautifully decorated and lit dining room.  Reservations are currently being accepted.