Winter Simulator League Champions 2021-2022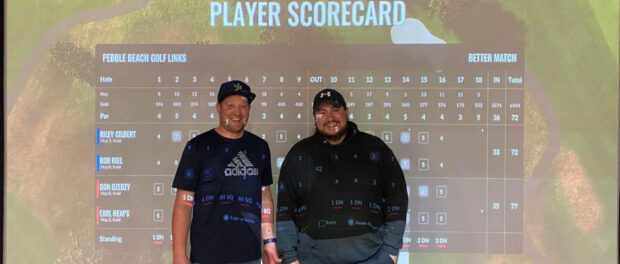 Huge congratulations to our 2021-2022 Winter League Champions Rob Riel and Riley Gilbert on their massive 3&2 victory over Don Dzedzy and Earl Heaps at Pebble Beach.
Rob and Riley were an absolute force through the playoffs, winning 2 Up over early season favorites Ryan Jackson and Derek Kilby, 3&2 against the formidable duo of Rick Speed and Jason Hurlock, and a massive 5&4 victory over the #2 seed Fred Eskridge and Josiah Hanks.  They were a team that was wire-to-wire in the playoff hunt all season, and then turned on the heat even further when it mattered.  Against Don and Earl, a similarly matched team in terms of handicap and playstyle, they maintained an early lead throughout the 18-hole match, with only the 6th and 7th holes staying All Square.  Don and Earl, while not at their best, kept up the pace until the long 14th hole, which Riley won with a 7 for 6.  Riley would slam the door shut with his up and down for par on the 16th hole, and Don's chip would roll out to give the 11th seed the championship.  Due to Riley's stretch at the end as the lowest net golfer on the winning team over the playoffs, he wins Playoff MVP – congratulations and well earned!
Josiah Hanks and Fred Eskridge somehow overcame an epic run from regular season MVP Tom Stasiunas, who was 4-under GROSS through 7 holes at Pebble Beach to win the third place match 3&2.  Fred and Josiah shook off their humbling defeat from the hands of the eventual champs at Valderrama by shooting even par and two over gross on the legendary links at Pebble Beach to dispatch Tom and Mike's Cinderella Run as the 16th seed.
On the consolation side, Jesse Crockett repeated for the second year straight as the Consolation Game Champ, this year with Miguel Contreras as his accomplice. Joe Ferdinando and Ken Capolongo put together an epic round at Pebble Beach under pressure to narrowly come in second, only 10 points back of Jesse and Miguel.  Brad Hanks and Jesse Hanks, who entered the contest after a first round exit, narrowly finished 5 points over Eddie Aleshire and Ryan Pack, as well as Jerry Hogue and Eric Klotz to nab the 3rd place finish with their T-2 finish on the week.
Thank you again to all 31 two-man teams that played – this was an awesome group and mix of golfers and a great time all winter long!