Tea Party "Memorable"
Blue Heron Grille Special Event
"My Friend & Me Tea" delighted little girls and their families on Sunday, September 21st.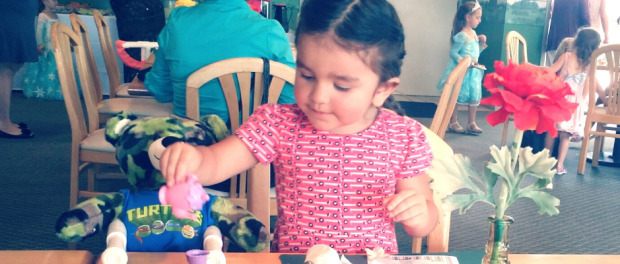 The Blue Heron Grille hosted nearly 100 people for a special afternoon Tea Party where little girls brought their dolls or teddy bears to this unique event.  Special chairs designed exclusively for our "special guests," allowed the dolls and teddy bears to sit right at the table.  Their own mini cups, plates and spoons also offered imaginative play for the little ones during the tea.  Everyone enjoyed  the Chef's buffet – from the beautiful tea sandwiches and pastries to the Crab Bisque and Scones.
Families also had the opportunity to visit the "Boutique" in our outdoor tent.  There, crafters, local businesses, and organizations provided crafts, games, information, services, and products.  Doll clothes, jewelry, books, toys, hats, and accessories were just some of the many items available.  Cecil Dancenter's Cinderella and Tinker Bell were also there to greet the children.  Special thanks to all who participated!
Menu
Scones
Clotted Cream & Preserves
Muffins
Assorted Finger Sandwiches:

Egg Salad & Cress
Cucumber & Dill Cream Cheese
Smoked Salmon & Cream Cheese
Baked Ham & Mustard
Peanut Butter & Jelly
Nutella & Banana

Baked Mini Quiche
Cream of Crab Bisque
Assorted Fruit Display
Assorted Mini Desserts

Cream Puffs, Eclairs, Cookies and more

Beverages

Assorted Hot Tea
Coffee
Hot Chocolate
Iced Tea
Lemonade
Milk
"Boutique" Participants
Avon – Tina Creswell
Cecil County 4-H Youth Development
Cecil Dancenter – Tina Travers
Creative Knits – March Hawkins
The Dance Station LLC – Victoria Truitt
Girl Scouts of the Chesapeake Bay
Jamberry Nails – Tina Wachter
Karen's Kreations – Karen Guntner
Make it-Take it Crafts – Karla Murphy
Paparazzi Accessories – Nicole Page
Roxie's Candies and Crafts – Roxanne Kazaitis
Sales Forever – Mary Ann Coover
Usbourne Books & More – Christine Bowers
Reviews
"We had such a wonderful afternoon. What a fun and dainty day out for any little girl or boy. Great job." ~ Allison Koran Suhrbier via Facebook
"I spent a wonderful time with my granddaughter at the tea today. The food was wonderful and every detail was special. Thank you for a memory making occassion!" ~ Doris Fieldhouse Andersen via Facebook Review
"This was a wonderful event! My granddaughter and dolle, Belle, had a fabulous time! Hope "Tea Time" is an annual event." ~ Nancy Lehr via Facebook
"Had a great time today!! Very nice to event so family friendly so close to home!!" ~ Genelle Davis via Facebook
"We had such an amazing day at this event!! Our girls loved the tea time, and enjoyed all the goodies they got to buy." ~ Lizette Camacho via Facebook