St. Patrick's Day Golf Tournament
Get a head start on St. Patrick's Day!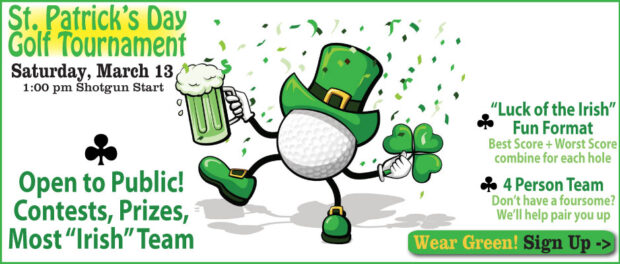 2021 St. Patrick's Day Golf Tournament
1 P.M. Shotgun — Saturday, March 13th, 2021
Open to the Public!
Sign Up:  Pro Shop 410-658-4343 x2  ♣  Online
Get a jump on your your St. Patrick's Day fun! Play in Chesapeake Bay Golf Club's St. Patrick's Day Golf Tournament on Saturday, March 13th! Be sure to wear your green – there will be a Contest for the "Most Irish Team"!
FORMAT

: "LUCK OF THE IRISH"
The Luck of the Irish Format is a modified team better ball where you combine the best score with the worst score on each hole.
For example:  Player 1 scores a 3, Player 2 scores a 4, Player 3 scores a 5, and Player 4 scores a 7.  You would combine the 3 (lowest score) with the 7 (highest score) for a team score of 10.
TOURNAMENT RULES
2021 USGA Rules govern the play of this tournament.
All players will tee off from the tees their handicap is based on.
All players must play their own ball through the hole.
All players may lift, clean, and place their ball 1 club length through the green (includes bunkers).
Maximum score of "double par" on each hole (6 on par 3s, 8 on par 4s, 10 on par 5s).
Penalty Areas are marked with red stakes.
Areas designated "Out of Bounds" are marked with white stakes.
Local Rule in Play:

Provides an alternative to stroke-and-distance relief for a ball that is lost outside a penalty area or out of bounds.
You can still take stroke and distance relief, but you may also take a penalty of 2 strokes by determining the spot where your ball went out of bounds or likely to be lost, find nearest fairway edge – no closer to hole and take 2 club lengths.
CONTESTS
Closest-To-The-Pin on Hole #2
Closest-To-The-Pin on Hole #15
Longest Drive on Hole #16
"Most Irish" Team
ENTRY
Full Member / Season Ticket Price: $20 per member
Chantilly Card / Public Price: $60 per player
Optional Team Skins: $20 per team
Gross & Net Prizes!