Senior Club Champions 2023
Our 2023 Senor Club Champions!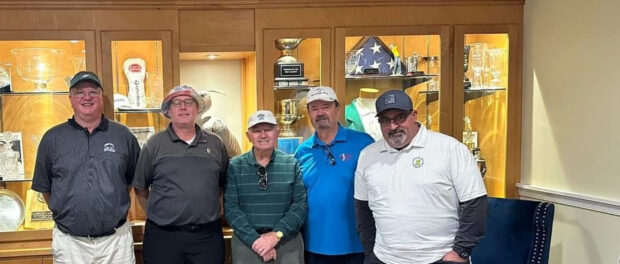 Huge congratulations to our Senior Club Champions!
On the Men's 50-59 flight, our current Member of the Year Randy Burton shot a 79 to win his first ever Senior Club title. Vince Brooks, hot off a big win in our Chantilly Shootout won low net with 76.
On the Men's 60-69 flight, our B Flight Club Champion Dave Graybeal added to his trophy case with his first ever Senior Club championship title – besting a loaded flight of 16 golfers with his score of 79. Paul Osborne, who led after 9 holes, took low net with 74.
On the Men's 70+ flight, Charlie McClaskey won in historic fashion, firing a 75 which was his 1000th career round shooting his age or better. Charlie won the championship in 2021. Gordy Kerr took low net with a 75.
On the Ladies side, Arlene Zamora reclaimed her title shooting a 78 to best reigning Ladies Senior Champ Shelly Pinkerton. Shelly would go on to win low net with a 75.