Ryder Cup at CBGC! 10AM Tee Off Sunday, September 30th. Fun Split Format. 2 Person Teams.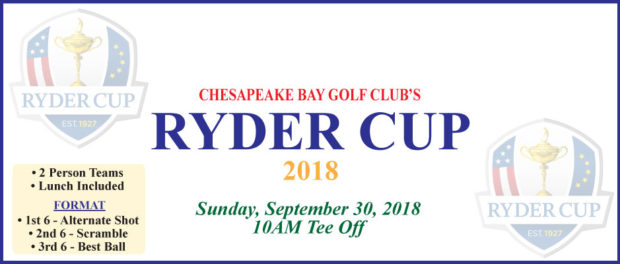 Ryder Cup at Chesapeake Bay Golf Club

Sunday, September 30, 2018 • Open to the Pubic
Sign Up Pro Shop 410-658-4343 x26  |  Sign Up Online
Play in Chesapeake Bay Golf Club's "Ryder Cup" Tournament on Sunday, September 30, 2018.
This is a 2 Person Team Event – Open to the Public – with a fun split format that includes Select Drive/Alternate Shot, Scramble, and Best Ball.
Team Net and Gross Prizes will be awarded. Lunch and 2 Beer Tickets per person included. Relax and enjoy watching the Ryder Cup finals in the Players Grille after your round!
Ryder Cup Event Details:
Sunday, September 30, 2018
Chesapeake Bay Golf Club
10AM Tee Off
2 Person Teams
FORMAT
1st 6 – Select Drive / Alternate Shot
2nd 6 – Scramble
3rd 6 – Best Ball (Four Ball)
DETAILS
Team Net / Gross Prizes
Team will be Handicapped(Based on Buick Scramble Format)
Tees – Play from where you normally play from (where handicap is from)
Skins – Optional – Net / Gross (Cash)

Lunch Included after Round

Watch the Ryder Cup after the round
2 Beer Tickets per player
ENTRY
Members – $40 / player
Public – $80 / player
Entry Includes: Golf, Cart, Lunch, Beer Tickets, and $20 goes toward Team Cash Prizes.