Evan Barbin's 1-Under 69 Earns Medalist at Philadelphia Open Qualifier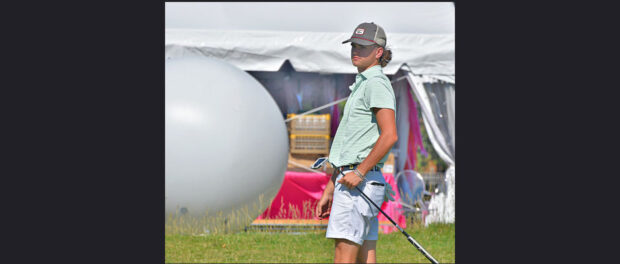 PLYMOUTH MEETING, PA, June 17, 2021 — Evan Barbin shoots 1-under par 69 to finish first in the field of 130 amateur and professional golfers at the Philadelphia Open Championship Qualifier at the 1912 Club. Evan was the only player in the field with an under par round.
This is Evan's second major qualifying medal of the summer – after finishing on top at the BMW Philadelphia Amateur Championship Qualifier at Running Deer Golf Club on May 22nd.
"After a 1-under 69 performance at The 1912 Club (par 70, 6,655 yards) Wednesday in the first of three GAP Open Championship Qualifying events, now Barbin has a pair of GAP medals — and a second chance at the ultimate Major hardware.

"All I was trying to do was make birdies and avoid doubles. I just told myself to hit the center of greens," said Barbin.

A clean second side of 2-under par checks both of those goals off the list. Barbin's first birdie of the day arrived on the par-4, 413-yard 11th. A 3-wood off the tee, and over the pond, left him with just a pitching wedge in. He landed that approach on the left fringe near a sprinkler head, took relief, and chipped in for 3. His second and final red digit on No. 15 (par 4, 347 yards) came after an overdrawn 3-wood landed left, but a 60-yard lob wedge approach landed within 10 feet and was drained. Three pars coming in resulted in the 1-under finish.

"It was one of those days where I had a ton of good looks at birdie. I missed a few short ones, maybe three five-footers in a row," said Barbin. "I hit the ball really solid overall."
Tournament Results
| | |
| --- | --- |
| Qualifiers | |
| Name, club | Score |
| (a)Evan Barbin, Loch Nairn Golf Club (CBGC) | 69 |
| (a)Michael Carr, Philadelphia Cricket Club | 70 |
| (a)Alex Butler, Overbrook Golf Club | 71 |
| Mike Furey, Saucon Valley Country Club | 71 |
| (a)Angelo Giantsopoulos, LuLu Country Club | 72 |
| (a)Jack Hamilton, Merion Golf Club | 72 |
| (a)John Samaha, Old York Road Country Club | 72 |
| (a)Cal Buonocore, Philadelphia Cricket Club | 73 |
| (a)Matt Dolinsky, Honeybrook Golf Club | 73 |
| (a)Oscar Mestre, Overbrook Golf Club | 73 |
| Bill Walker, Riverton Country Club | 73 |
| (a)Ryan Cass, Hidden Creek Golf Club | 74 |
| (a)Geoffrey Cooper, North Hills Country Club | 74 |
| Chris Krueger, Kings Creek CC | 74 |
| (a)Brendan McNamara, Sandy Run Country Club | 74 |
| (a)Gary Schoeman, Gulph Mills Golf Club | 74 |
| (a)Jake Cutler, Union League Liberty Hill | 75 |
| (a)Jackson Debusschere, The Springhaven Club | 75 |
| (a)Zach Dilcher, Hartefeld National | 75 |
| (a)Sean Ebert, Doylestown Country Club | 75 |
| (a)Zachary Falone, Little Mill Country Club | 75 |
| (a)Buddy Hansen, Blue Bell Country Club | 75 |
| (a)Matthew Homer, Wilmington Country Club | 75 |
| (a)Brian Isztwan, Huntingdon Valley Country Club | 75 |
| (a)Joe Kerrigan, Llanerch Country Club | 75 |
| (a)Andrew Kotler, Cherry Valley Country Club | 75 |
| (a)Matthew Krass, Radley Run Country Club | 75 |
| (a)Caleb Ryan, The 1912 Club | 75 |
| (a)Jeffrey Victor, Philadelphia Publinks Golf Association | 75 |
| John Cooper, Green Valley Country Club | 76 |
| (a)Christopher Dorey, Metedeconk National Golf Club | 76 |
| (a)Corey Haydu, Spring Mill Country Club | 76 |
| (a)Matt Lafond, Blue Bell Country Club | 76 |
| (a)Brett McGrath, Huntingdon Valley Country Club | 76 |
| (a)Joey Morganti, Llanerch Country Club | 76 |
| (a)Chris Orlando, Paxon Hollow Country Club | 76 |
| David Powers, Woodloch Springs | 76 |
| (a)Justin Schorr, Talamore Country Club | 76 |
| Anthony Shields, Union League Liberty Hill | 76 |
| Nathaniel Short, Country Club of York | 76 |
| (a)Chris Waldmann, French Creek Golf Club | 76 |
| (a)Ron Weaver, Bent Creek Country Club | 76 |
| Failed to qualify | |
| (a)Nicholas Anderson, White Manor Country Club | 77 |
| (a)Evan Drummond, Applecross Country Club | 77 |
| (a)Justin Elwell, Running Deer Golf Club | 77 |
| (a)Phillip Garbrous, Hidden Creek Golf Club | 77 |
| (a)Ryan Gelrod, Philadelphia Cricket Club | 77 |
| (a)Nick Hano, Aronimink Golf Club | 77 |
| (a)John Hansel, Sandy Run Country Club | 77 |
| Terry Hatch, Royal Oaks Golf Club | 77 |
| Jeff Herb, Waynesborough Country Club | 77 |
| (a)Jack Homer, Wilmington Country Club | 77 |
| (a)Andrew Jaskel, Union League Golf Club at Torresdale | 77 |
| (a)Darren Nolan, Cedarbrook Country Club | 77 |
| (a)Kevin O'Brien, Cedarbrook Country Club | 77 |
| (a)Stewart Rickenbach, Manufacturers' Golf & Country Club | 77 |
| (a)Nikita Romanov, Loch Nairn Golf Club | 77 |
| (a)Gerard Rosato, The 1912 Club | 77 |
| (a)Matthew Zerfass, Brookside CC of Allentown | 77 |
| (a)Tyler Zimmer, Philadelphia Country Club | 77 |
| (a)Matthew Bastian, Rolling Green Golf Club | 78 |
| (a)John Bradbeer, Merion Golf Club | 78 |
| Scott Chisholm, Rolling Green Golf Club | 78 |
| (a)Christopher Clauson, LuLu Country Club | 78 |
| (a)Michael Davis, Aronimink Golf Club | 78 |
| (a)Jeffrey Homer, Wilmington Country Club | 78 |
| Will Huntley, Blue Bell Country Club | 78 |
| (a)Henry Kovalcik, Hidden Creek Golf Club | 78 |
| (a)Liam McGrath, Huntingdon Valley Country Club | 78 |
| (a)Pete Moran, French Creek Golf Club | 78 |
| (a)Domenick Trentalange, LuLu Country Club | 78 |
| (a)Ryan Woelfling, Philadelphia Publinks Golf Association | 78 |
| (a)Stephen Barry, Running Deer Golf Club | 79 |
| (a)Jake Fazio, Huntingdon Valley Country Club | 79 |
| (a)Kevin Lafond, Blue Bell Country Club | 79 |
| (a)Jake Maddaloni, Aronimink Golf Club | 79 |
| (a)Johnny Mallozzi, Talamore Country Club | 79 |
| (a)Marty McGuckin, Philadelphia Cricket Club | 79 |
| (a)Joseph Polidoro, Scotland Run Golf Club | 79 |
| (a)Connor Vanin, Philadelphia Publinks Golf Association | 79 |
| (a)Andrew Curran, Philadelphia Cricket Club | 80 |
| (a)Josh Evans, Blue Bell Country Club | 80 |
| (a)Shawn Lavin, Rolling Green Golf Club | 80 |
| (a)Stephen Lorenzo, Manufacturers' Golf & Country Club | 80 |
| (a)Garrett McVaugh, Moorestown Field Club | 80 |
| Hugh Reilly, Philadelphia PGA | 80 |
| (a)Kevin Rossi, Green Pond Country Club | 80 |
| (a)Joseph Rueter, Sandy Run Country Club | 80 |
| (a)Jim Austin, Deerwood Country Club | 81 |
| (a)Ian Masenheimer, Lehigh Country Club | 81 |
| (a)Jacob Zeng, Applecross Country Club | 81 |
| (a)Sean Campbell, Talamore Country Club | 82 |
| (a)David Malone, Sandy Run Country Club | 82 |
| (a)Doug Marcincin, Northampton Country Club | 82 |
| (a)Jack Davis, Aronimink Golf Club | 83 |
| (a)Shane Dolan, The 1912 Club | 83 |
| (a)Jeff Gardiner, Hartefeld National | 83 |
| (a)Greg Hanna, Applebrook Golf Club | 83 |
| Quinn Joseph, French Creek Golf Club | 83 |
| (a)Zach Miller, Five Ponds Golf Club | 83 |
| (a)Mitch Steelman, Sunnybrook Golf Club | 83 |
| (a)Michael Sydnes, Talamore Country Club | 83 |
| (a)Mason Wills, Bent Creek Country Club | 83 |
| (a)Joshua Gallagher, Hartefeld National | 84 |
| (a)Richard Marabella, Jeffersonville Golf Club | 84 |
| (a)J.B. Reibstein, Philadelphia Cricket Club | 84 |
| (a)A.J. Skinner, Five Ponds Golf Club | 84 |
| (a)Carter Field, Sandy Run Country Club | 85 |
| (a)Scott Kalan, Squires Golf Club | 85 |
| (a)Evan Rosenstein, Bluestone Country Club | 85 |
| (a)Adam Schlanger, Mercer Oaks Golf Course | 85 |
| (a)Brad Abel, DuPont Country Club | 86 |
| (a)Stephen McIntyre, Philadelphia Publinks Golf Association | 86 |
| (a)Brian Smarsh, Philadelphia Publinks Golf Association | 86 |
| (a)Sean Kelly, Bucknell Golf Club | 87 |
| (a)Daniel Tennekoon, Makefield Highlands Golf Club | 88 |
| (a)Trent Gehringer, Golden Oaks Golf Club | 89 |
| (a)Charles Briggs , Merion Golf Club | 90 |
| (a)Ryan Divis, LuLu Country Club | 90 |
| (a)Christian Deussing, Jericho National Golf Club | 91 |
| (a)Christopher Nugent, Hershey's Mill Golf Club | 91 |
| (a)Craig Reiner, Moorestown Field Club | 91 |
| (a)John Stevenson, Whitemarsh Valley Country Club | 96 |
Source / Full Article / Photo Credit: GAP Golf