2019 Junior Club Championship Results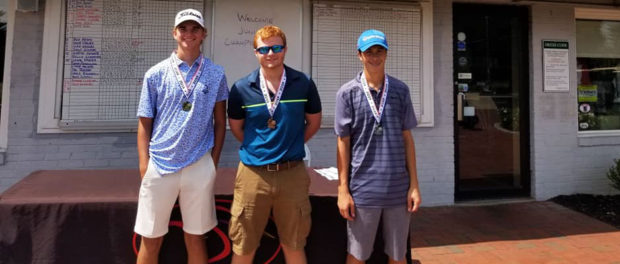 Junior Club Championship at Chesapeake Bay Golf Club
2019 Junior Club Champions
Congratulations to all our Junior Club Champions!
2019 Boys Junior Club Champion: Evan Barbin
2019 Girls Junior Club Champion: Amanda Glidewell
Red Lion Christian Academy sophomore Evan Barbin defended his title as the overall and boys 16-18 year old division with an excellent even-par round of 71. Coming in second was North East's Matt Wallace with an 89, and in third was Rising Sun's Chuckie Martin with a 93.
On the Girls side, Rising Sun's Amanda Glidewell defended her title for the second year in a row with her 54, beating out her sister Lilly Glidewell who came in second with a 70.
In the Boys 13-15 division, Conor Najera edged out Noah Wallace 41 to 42. It was a tight battle that came down to the last hole! Rising Sun's Kadin Snyder rounded out the winners circle with a 47. This division had 12 players and was a very competitive contest!
In the Boys 9-12 division, Jack Revie won a close contest in a very strong field with his score of 45. Joel Vogt came in second with a 47, and defending champ Caiden Jordan finished at 48.
In the Girls 9-12 division, Kate Judy won with a 51. She ran unopposed, but her round put her right up there with the boys from the same tees!
In the Boys 6-8 division, Jack Judy won by a stroke over Ben Revie 27 to 28. Davis Lehr rounded out the pairing with a 39.