Zach Barbin 2015 Player of Year!
Zach Barbin tops great year winning the 2015 "Player of the Year" with a final 3,500 points.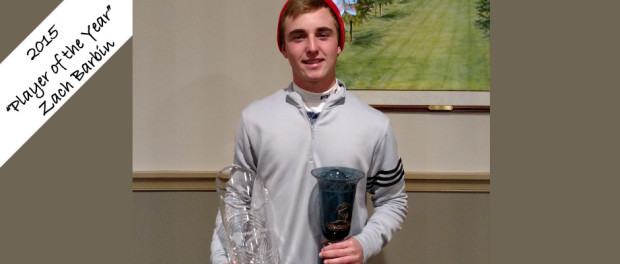 Final Results
CBGC's Playoffs concluded Sunday with the top players on our Player of the Year Points List competing in the Tournament of Champions. Congrats to Steve Westerfer for winning this year's Champions Cup with a Net 72, and to Zach Barbin for winning Chesapeake Bay Golf Club's 2015 "Player of the Year" Award with an outstanding 3,500 year-end points list total. Thanks to all of our Members for a great golf tournament season!
2015 Tournament of Champions Final Results
Sunday, October 18, 2015 at Rising Sun Course
| | | | | |
| --- | --- | --- | --- | --- |
| Place | Name | Gross | Net | Tournament Cup Pts |
| 1st | Steve Westerfer | 85 | 72 | 2,500 pts |
| 2nd | Zachary Barbin | 73 | 73 | 1,250 pts |
| 3rd | Jim French | 82 | 73 | 1,250 pts |
| 4th | John Baynes | 90 | 75 | 650 pts |
| 5th | Steve Smith | 84 | 75 | 650 pts |
| 6th | David Whitlock | 90 | 76 | 475 pts |
| 7th | Derek Adams | 89 | 76 | 475 pts |
| 8th | Jim Fox | 92 | 78 | 425 pts |
| 9th | Andrew Barbin Jr | 81 | 79 | 375 pts |
| 10th | Frank Orbin | 89 | 79 | 375 pts |
| 11th | Homer Welch | 88 | 79 | 375 pts |
| 12th | Tom Vincenti | 84 | 80 | 325 pts |
| 13th | Tammie Vincenti | 90 | 81 | 292.50 pts |
| 14th | Frank Cortazo | 109 | 81 | 292.50 pts |
| 15th | Don Palmer | 97 | 83 | 280 pts |
| 16th | Carlos Coleman | 99 | 85 | 275 pts |
| 17th | Bob Kern | 107 | 93 | 270 pts |
| 18th | Harold Creek | 118 | 95 | 265 pts |
2015 Chesapeake Bay Golf Club

Player of the Year Final Points
| | | |
| --- | --- | --- |
| Place | Name | Final Points Total |
| 1st | Zachary Barbin | 3,500 pts |
| 2nd | Jim French | 3,250 pts |
| 3rd | Homer Welch | 2,875 pts |
| 4th | Steve Westerfer | 2,860 pts |
| 5th | Frank Orbin | 1,975 pts |
| 6th | David Whitlock | 1,875 pts |
| 7th | Susan Eichler | 1,800 pts |
| 8th | Bob Kern | 1,470 pts |
| 9th | Andrew Barbin Jr | 1,375 pts |
| 10th | Steve Smith | 1,250 pts |
| 11th | Carlos Coleman | 1,075 pts |
| 12th | John Baynes | 1,030 pts |
| 13th | Jim Fox | 885 pts |
| 14th | Derek Adams | 815 pts |
| 15th | Tom Vincenti | 745 pts |
| 16th |  Don Palmer | 720 pts |
| 17th | Frank Cortazo | 692.50 pts |
| 18th | Tammie Vincenti | 692.50 pts |
| 19th | Harold Creek | 575 pts |
| 20th | Al Mingle | 480 pts |
| 21st | Al Snyder | 320 pts |
| 22nd | Dave Archibald | 290 pts |