Winter Golf Simulator League
Play Famous Courses Every Week on our new TrackMan Simulators.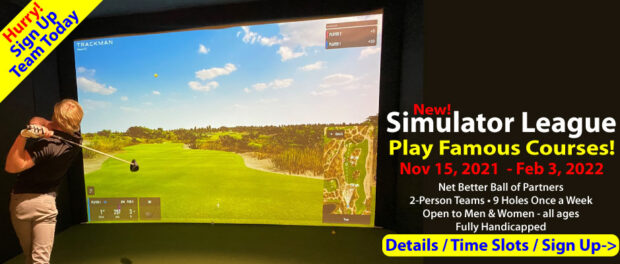 Chesapeake Bay Golf Club's

Winter Golf Simulator League!
Play Famous Courses Every Week on our New TrackMan Simulators!
NOVEMBER 15, 2021–February 3, 2022 (Playoffs ends March 3, 2022)
Sign Up: Call Pro Shop 410-658-4343 x2  |  Simulator League Schedule
FORMAT & HANDICAPPING:
The league format will be a net better ball of partners, two-person teams, 9 holes once a week.
This league is open to both men and women of all ages and will be fully handicapped.

If you do not carry a USGA Handicap, you must bring 3 attested scorecards and we will create a handicap based on the average x 0.8.
From there, your handicap will adjust each week based on your net score.
Every 3 shots under or over net par will decrease or increase your handicap by one stroke.
0 will be the lowest possible handicap, and 36 will be the highest possible handicap.
COSTS:
Team Entry Fee

: $120 per team – covers administrative costs and end of year prizes.

Daily Fee

: $30 per player for 9H match.

Prizes & Skins

: $5 per player for prizes & net skins (mandatory).  Half of the pot goes to top 3 low net for the week, and half of the pot goes to the net skins pot.  There will also be an optional $5 gross skins side pot!
SCHEDULING:
When you sign up, you will inform the staff of the days and times you can typically play your weekly round.
The league will have times reserved every Monday and Thursday for league play. Time slots available for league play on Mondays and Thursdays will be:

2pm – 4pm
4pm – 6pm
6pm – 8pm
8pm – 10pm

With 2 simulators, 4 teams (8 players) can occupy a time slot at once.
Based on the times you selected, you will be scheduled to play during that time frame as close as possible.
If you need to change your time slot for the week, or if you need to play on a day that is not Monday or Thursday, you must notify Andrew Barbin Jr. or the pro shop and make your arrangements during normal hours of operation.

League play can only be played Monday through Thursday, league play not permitted on Fridays-Sundays.

 
We will try to keep your time slot as consistent as possible!
Please keep pace of play to avoid matches from going overtime!  There is an option to pick up if needed!
SCORING:
We will have paper scorecards with your name and current handicap on it, ready to go.
All teams will be responsible for putting down their gross scores on the scorecard, as well as marking the "pops" on the card as well (where you get strokes off based on your handicap).
Trackman has a virtual scorecard that has all this information on it – all you must do is click the top right section where it has your team score displayed.
The maximum score you can get on a hole is net double bogey – this is to eliminate sandbagging and to keep handicaps consistent.

For example, if you get an 11 on a hole, but it's a par 4 where you only get one handicap stroke you must write your score down as a 7 (double bogey is 6 + 1 stroke for handicap = 7).
POINTS SYSTEM & PLAYOFFS:
Each week, teams will compete for low net better ball of partners.
Based on your placing, you will receive points.
The points system will be allotted as such:

100 pts for 1st
85 pts for 2nd
75 pts for 3rd
65 pts for 4th
55 pts for 5th
50 pts for 6th
45 pts for 7th
40 pts for 8th
35 pts for 9th
30 pts for 10th
25 pts for 11th
20 pts for 12th
15 pts for 13th
10 pts for 14th
5 pts for 15th
0 for 16th and worse

Points will be accumulated through the 12-week regular season.
The top 16 teams in points will make the playoffs, in which they will have their matches scheduled in four consecutive weeks.
Teams that do not make the playoffs may continue to play on designated league nights for prizes and skins!

We have a consolation game where each team buys in for $40 ($20 per player) and is based on the total of points amassed through the four playoff weeks.
The top three teams will split the cash pot.
Teams eliminated from the playoff bracket will be allowed to join in and will get 20 points for each week they remained in the playoff bracket.

PLEASE NOTE THAT THE POINTS SYSTEM AND NUMBER OF PLAYOFF TEAMS IS SUBJECT TO CHANGE BASED ON HOW MANY TEAMS ARE IN LEAGUE (this is based on 32 teams).
We will also have a virtual silent Calcutta auction for the playoff bracket!
HOLIDAYS & VACATIONS:
Because Thanksgiving falls on a Thursday, that match will be played on the WEDNESDAY before.  If you cannot make Wednesday, you may reserve other times in the week.
The course will be completely closed on Christmas and will be closed early on Christmas Eve and New Year's Eve.
Because this is a simulator league, and because conditions will always be the same, there are no restrictions to making up or pre-playing weeks in advance.  For example, if you are going on a family vacation on weeks 3 through 5, you can pre-play those rounds on non-league times.  When pre-playing, you can also be in contests and skins.  You are permitted to make up a week if you missed it prior, but you are not eligible for skins or prizes as cash payouts as those are paid out on the week.  Makeup weeks will not affect the points of other teams, and you will only get 50% of the possible points based on your position.
SUBSTITUTES:
If necessary, you are permitted to have a substitute play on non-playoff weeks.
There will be no instances of double substitutions permitted – one player from your team must play!
In the instance of a golfer being unable to finish the season due to a legitimate injury, a permanent replacement will be permitted at any time (including playoffs).  The permanent replacement must have an official USGA handicap and will play to 70% of that handicap on their first week.  The injured golfer forfeits all potential end of year earnings to the substitute.
PLAYERS GRILLE:
The bar will be open the entire duration of the night.  We will have Monday and Thursday Night Football on the big screen TVs!  Stay and hang out!
TWITCH STREAM:
We will be live streaming matches from time to time, including all playoff bracket matches!
Our twitch profiles are chesapeakebaygolfclub01 and chesapeakebaygolfclub02 – so make sure to subscribe to get notifications on when we go live!
Commentary for the playoff matches will be provided by myself and others who care to join in.  I will try to setup a camera as well this year.  I will also try to find out how to save the videos of the matches so that everyone can go back and watch them.
PAYOUT DETAILS:
League Champion: 50% of prize pool derived from entry fee (in gift cards)
League Runner Up: 30% of prize pool derived from entry fee (in gift cards)
League Third Place: 20% of prize pool derived from entry fee (in gift cards)
OTHER PRIZES:
Most Valuable Player
Low Gross Average
Low Net Average
Most Valuable Team
Money List Leader
Playoff MVP
SCHEDULE:
(subject to change – pending course releases by TrackMan)
Week 1 (11/15/21 – 11/21/21):  The Summit Club Front 9 — (PGA TOUR'S CJ CUP VENUE)
Week 2 (11/22/21 – 11/28/21):  Trinity Forest Front 9 — (PGA TOUR'S AT&T BYRON NELSON VENUE)
Week 3 (11/29/21 – 12/05/21):  Sea Island Seaside Back 9 — (PGA TOUR'S RSM CLASSIC FEDEX CUP VENUE)
Week 4 (12/06/21 – 12/12/21):  Fieldstone Back 9 — (TOP PRIVATE CLUB IN DELAWARE)
Week 5 (12/13/21 – 12/19/21):  Royal St. George's Back 9 —  (2021 BRITISH OPEN VENUE)
Week 6 (12/20/21 – 12/26/21):  Bellerive Back 9 — (2018 PGA CHAMPIONSHIP VENUE)
Week 7 (12/27/21 – 01/02/22):  PGA National Back 9 — (PGA TOUR'S HONDA CLASSIC VENUE)
Week 8 (01/03/22 – 01/09/22):  Muirfield Village Front 9 — (PGA TOUR'S MEMORIAL TOURNAMENT VENUE)
Week 9 (01/10/22 – 01/16/22):  Royal County Down Front 9 — (GOLF DIGEST 2021 #1 COURSE IN THE WORLD)
Week 10 (01/17/22 – 01/23/22):  Quail Hollow Front 9 — (2022 PRESIDENT'S CUP VENUE & WELLS FARGO)
Week 11 (01/24/22 – 01/30/22):  Medinah Back 9 — (MULTIPLE US OPEN & PGA CHAMPIONSHIP VENUE)
Week 12 (01/31/22 – 02/06/22):  St. Andrews Back 9 — (OLDEST COURSE IN GOLF, 2022 BRITISH OPEN VENUE)
Playoffs Week 1 (02/07/22 – 02/13/22):  Casa de Campo Front 9 — (TOP 100 GOLF COURSE IN WORLD)
Playoffs Week 2 (02/14/22 – 02/20/22):  Liberty National Front 9 — (PGA TOUR NORTHERN TRUST FEDEX CUP)
Playoffs Week 3 (02/21/22 – 02/27/22):  Real Club Valderrama Front 9 — (LEGENDARY RYDER CUP VENUE)
Playoffs Week 4 (02/28/22 – 03/06/22):  Pebble Beach Front 9 — (2019 US OPEN VENUE)
SIMULATOR RULES:
Check-In & Preparation:
Please arrive 30 minutes prior to time slot to ensure that payment and setup allows play to start on time.
Please make sure you are wearing clean shoes or sneakers (no spikes!), and that your clubs and grooves are clean.
Course Setup:
Courses will be set up with easy pins, calm wind, fast firm fairways, medium firm greens, and green speed stimped at an 11 (same as putting turf).
Putting will be on the "Aimed" setting, with automatic gimmies inside 16 feet.  Aiming markers always on.
We may increase or decrease difficulty throughout the season to improve fun and/or speed of play.