MARKINC Golf Event
Monday, September 28, 2015 at Rising Sun Course
MARKINC Ministries invites you to participate in their Charity Golf Tournament Monday, September 28, 2015 at the Rising Sun Course. Event Open to Public.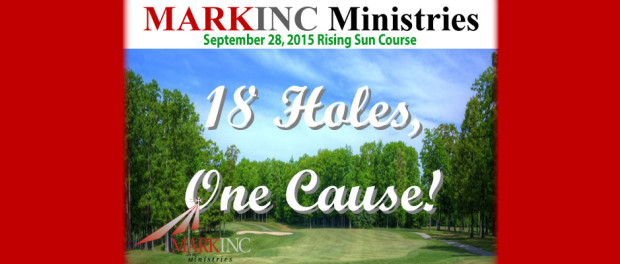 18 Holes, One Cause!
Contact MARKINC to Sign Up 302-838-2755
Dr. Chuck and Sharon Betters endured the most horrific pain a human can face with the death of their 16-year-old son, Mark. It so devastated their lives that hope was replaced by pain. From those days of wrestling with their faith, a greater hope emerged, a hope dependent on Christ. The message of MARKINC Ministries is that when pain is so intense that life itself seems hopeless, there is help and hope for the hurting. All proceeds support production and distribution of resources designed to offer help and hope for the hurting.
Mulligans for Sale
Want to forget that first shot? Take it over! Purchase a Mulligan or two (that's the limit) for $10 each at the registration table.
Three Feet of String Goes a Long Way!
For that "almost there" putt, use the string your team purchases for $20 (limit… one 3 ft. string per team) to make that birdie or eagle. Use it till it's gone and use it wisely. Every inch counts!
Contests/Prizes/Special Features
First Place
Second Place
Third Place
Closest to the Pin
Longest Drive
Straightest Drive
Hole-In-One
Putting Contest
Event Schedule
Monday, September 28, 2015 at Chesapeake Bay Golf Club's Rising Sun Course
11:30 AM Lunch, Registration and Driving Range
1:00 PM Shot Gun Start (scramble format)
6:00 PM Awards and Ice Cream Social
Help & Hope for the Hurting
Learning to See When the Lights Go Out
The MARKINC Ministries team produces and distributes resources, free of charge, that address painful, life-changing circumstances that are often hidden pain in the lives of every day people. Each resource in the Learning to See When the Lights Go Out audio library is a story of redemption that transparently hits life crises such as loss of a loved one, sexual abuse, divorce, terminal illness, adultery, substance abuse, hidden struggles of First Responders and more. Also included in the library is the Coming Home from War series which address PTSD, The Ultimate Sacrifice and War and the Family. This year we will add an interview with Baseball legend Darryl Strawberry and his wife Tracy, and their story of recovery from drug addiction, in addition to an interview with a recovering heroin addict and a series for police families. MARKINC has distributed almost 90,000 of these professionally produced and packaged resources free of charge. All funds raised from this year's event will help underwrite production and distribution of the Learning to See When the Lights Go Out audio library.
MARKINC Ministries is a 501c(3) organization, (Tax ID 51-0355072, all donations are tax deductible to the extent allowed by law).
Sponsor Opportunities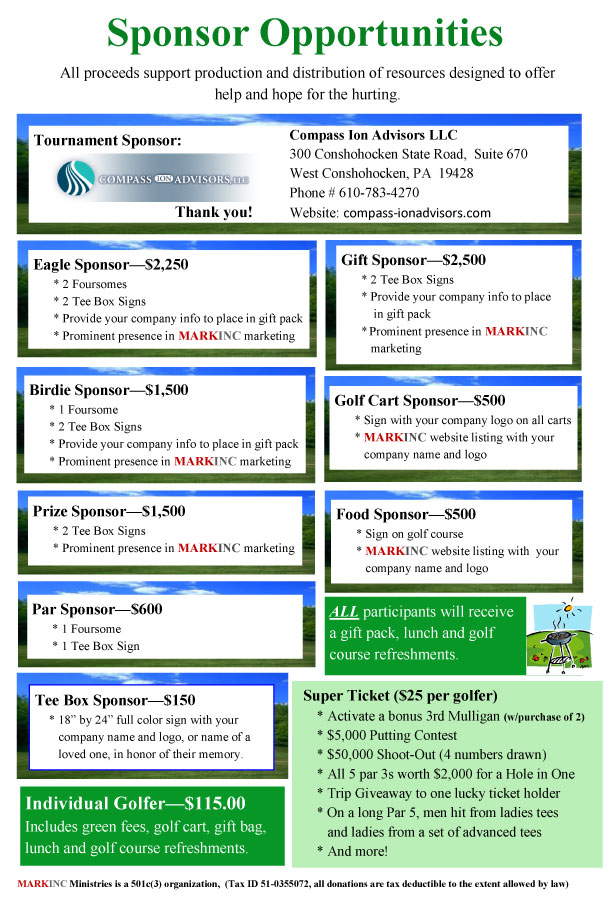 MARKINC Ministries
2880 Summit Bridge Road, Bear, DE 19701
1-877-MARKINC (627-5462)
302-838-2755
www.markinc.org