Winter Golf Simulator League Every Monday + Thursday Night Nov 30-Feb 4 on our new TrackMan Simulators.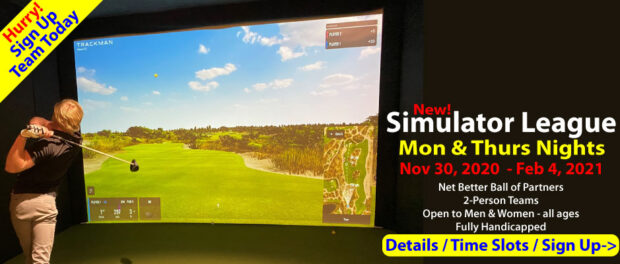 Chesapeake Bay Golf Club's
Winter Golf Simulator League
EVERY MONDAY & THURSDAY NIGHT ON OUR NEW TRACKMAN SIMULATORS
NOVEMBER 30th, 2020 – February 4th, 2021 (Playoffs end February 25th, 2021)
SIGN UP: Call Pro Shop 410-658-4343 x2  |  Simulator League Schedule
FORMAT:
The league format will be a net better ball of partners
2-Person Teams
Open to the Public
Men & Women of all ages
Full Handicapped

If you do not carry a USGA Handicap, you must bring 3 attested scorecards and we will create a handicap based on the average x 0.8

SIGN-UP DEADLINE NOVEMBER 29th at 12PM.  
OPEN TO THE FIRST 32 TEAMS TO SIGN UP!!!!
COSTS:
Team Entry Fee: $50 per team – goes end of year prizes.
Daily Fee: $25 per player for 9H match.
Prizes & Skins: $5 per player for prizes & net skins (mandatory).  Half of the pot goes to top 3 low net for the week, and half of the pot goes to the net skins pot.  There will also be an optional $5 gross skins side pot!
SCHEDULING:
When you sign up, you will check off the days and times you can play.
The league will have times reserved every Monday and Thursday.
Time slots:

4:30pm – 6pm
6pm – 7:30pm
7:30pm – 9pm
9pm – 10:30

With 2 simulators, 4 teams (8 players) can occupy a time slot at once.
With 4 time slots a day, for 2 days of play each, we can currently accommodate 32 teams (64 players).
Based on the times you selected, you will automatically be scheduled to play during that time frame.
If you need to change your time slot for the week, or if you need to play on a day that is not Monday or Thursday you

must notify

Andrew Barbin Jr., Mike Nelles, or Rashad Ferguson.  We will try to keep your time slot as consistent as possible!
Based on speed of play, we may adjust the time slots through the season.
Please keep pace of play – although we will go overtime if needed!
POINTS SYSTEM & PLAYOFFS:
Each week, teams will compete for low net better ball of partners.
Based on your placing, you will receive points.
The points system will be:

100pts for 1st
75pts for 2nd
50pts for 3rd
40pts for 4th
30pts for 5th
25pts for 6th
20pts for 7th
15pts for 8th
10pts for 9th
5pts for 10th

Points will be accumulated through the 10-week regular season.
The top 8 teams in points will make the playoffs, in which they will have their matches scheduled in three consecutive weeks.
Teams that do not make the playoffs may continue to play on designated league nights for prizes and skins!
HOLIDAYS:
Due to Christmas Eve and New Year's Eve all falling on Thursdays, those matches will be played on the WEDNESDAY before.
If you cannot make Wednesday, you may reserve other times in the week.
BAR & GRILLE:
We will have a food available every league night, running from 3pm through last match.
The bar will also be open the entire duration of the night.
We will have Monday and Thursday Night Football on the big screen TVs, as well as card games.  Stay and hang out!
SIMULATOR LEAGUE SCHEDULE:
Week 1 (11/30/20 – 12/03/20): Muirfield Back 9
Week 2 (12/07/20 – 12/10/20): Albany GC Front 9
Week 3 (12/14/20 – 12/17/20): Quail Hollow Back 9
Week 4 (12/21/20 – 12/23/20): Bellerive CC Front 9
Week 5 (12/28/20 – 12/30/20): Hualalai Resort Back 9
Week 6 (01/04/21 – 01/07/21): PGA National Front 9
Week 7 (01/11/21 – 01/14/21): Royal Portrush Back 9
Week 8 (01/18/21 – 01/21/21): Royal Troon Front 9
Week 9 (01/25/21 – 01/25/21): Innisbrook Back 9
Week 10 (02/01/21 – 02/04/21): St. Andrews Front 9
Playoffs Week 1 (02/08/21 – 02/11/21): St. Andrews Back 9
Playoffs Week 2 (02/15/21 – 02/18/21): Surprise!
Playoffs Week 3 (02/22/21 – 02/25/21): Surprise!
SIMULATOR RULES:
Check-In & Preparation:

Please arrive 30 minutes prior to time slot to ensure that payment and setup allows play to start on time
Please make sure you are wearing clean shoes or sneakers (no spikes!)
Please make sure your clubs and grooves are clean

Course Setup:

Courses will be set up with easy pins, calm wind, medium firm fairways, medium firm greens, and green speed stimped at an 11 (same as putting turf).
Putting will be on the "Aimed" setting, with automatic gimmies inside 16 feet.  Aiming markers always on.
We may increase or decrease difficulty throughout the season to improve fun and/or speed of play.
PAYOUT DETAILS:
League Champion: 50% of prize pool derived from entry fee (in gift cards)
League Runner Up: 30% of prize pool derived from entry fee (in gift cards)
League Third Place: 20% of prize pool derived from entry fee (in gift cards)