Fall Member-Member Results – 2020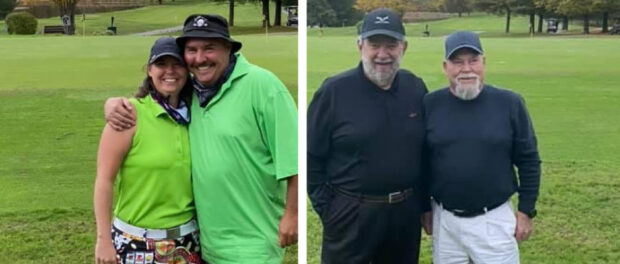 Congrats to our 2020 Fall Member-Member champions! We had a lot of fun with the Pinehurst format this year where both players hit a drive, then switch to hit second shots from each other's drives, and then play alternate shot from the best second shot.
This year's Gross champs were Tommy and Tammie Vincenti with an awesome score of 73, and our Net champs were Perry McAtee and Homer Welch with a Net 74!
Golf Results
| | | |
| --- | --- | --- |
| 1st Gross | Tommy Vincenti | Tammie Vincenti |
| | | |
| 1st Net | Homer Welch | Perry McAtee |
| | | |
| 2nd Gross | Pete Petersen | Steve Smith |
| | | |
| 2nd Net | Jeff Medlar | Dave Whitlock |
| | | |
| 3rd Gross | Arlene Zamora | Shelly Pinkerton |
| | | |
| 3rd Net | Earl Mitchell | Jim Weinztel |
| | | |
| CTP 2 | Tammy Vincenti | 23'9 |
| | | |
| CTP 15 | Linda French | 5'0 |