3 Jacks and a Jill – 2020 Golf Results
Congratulations to winners and all participants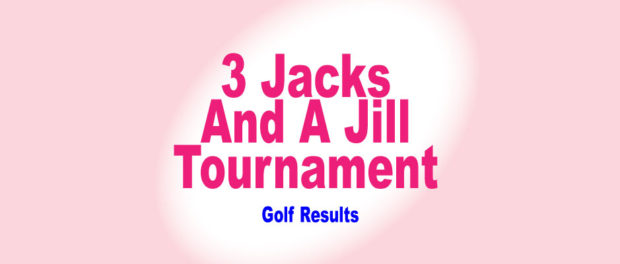 3 Jacks and a Jill Golf Tournament
2020 Golf Results
It was a great day and turnout for Chesapeake Bay Golf Club's Ladies Association's 3 Jacks and a Jill Golf Tournament on Sunday, October 11, 2020.
This was a fun "Shamble" 80% Handicap event where a lady (Jill) invites 3 men (Jacks) to play along as a team.
Cash prizes and Gift Cards were awarded. A delicious pot luck meal was served following golf.
This event was Open to the Public. Congratulations to all winners and participants!
Event Recap
Congratulations to all of our winners of our Ladies Association's annual "3 Jacks & A Jill" Tournament!  We had an awesome turnout of 80 players, mostly consisting of our great membership, and an awesome event!  The format was a Texas Shamble, where 2 scores counted on each hole and every player on the team had to use 2 of their drives.
On the Net Side, Phyllis Pepper's team (featuring Chris Ritchie, Homer Welch, and Gary Adams) turned in an outstanding score of -32 to take first place, followed closely by Karen Whiteoak's team score of -28 (featuring teammates Earl Mitchell, Al Snyder, and Bob Whiteoak).  Not too far along in third and fourth place at -24 was Lu Ann Mason's team (featuring Roger Keane, Mark Thompson, and Pete Petersen) and Theresa Anderson's team (featuring Jim Roney, Rich Haiber, and Dave Anderson).
On the Gross Side, Arlene Zamora's team (featuring Mike Fox Jr, Mike Fox Sr, and Andrew Barbin Jr) cleaned up big time, using 24 total birdies to power their scorching team score of -18.  Following behind them in second place was Tammie Vincenti's team (featuring Tom Vincenti, Anthony Vincenti, and Jim French) at -12.  In third place was Denise Medlar's team (featuring Jeff Medlar, Dan Hodak, and Kent Morgan) at -6, and in fourth place at -5 was Shelly Pinkerton's team (featuring Rashad Ferguson, Jason Vanover, and Bob Pinkerton).
Thank you again to all participants and for our awesome ladies for promoting, organizing, and supplying the food for the event!
| | | | |
| --- | --- | --- | --- |
| 1st Gross | 126 | Arlene Zamora | Mike Fox Sr |
| | | Andrew Barbin Jr | Mike Fox Jr |
| 2nd Gross | 132 | Tammie Vincenti | Anthony Vincenti |
| | | Tommy Vincenti | Jim French |
| 3rd Gross | 138 | Denise Medlar | Dan Hodack |
| | | Jeff Medlar | Kent Morgan |
| 4th Gross | 139 | Shelly Pinkerton | Jason Vanover |
| | | Bob Pinkerton | Rashad Ferguson |
| 1st Net | 112 | Phyllis Pepper | Gary Adams |
| | | Homer Welch | Chris Ritchie |
| 2nd Net | 116 | Karen Whiteoak | Al Snyder |
| | | Bobby Whiteoak | Earl Mitchell |
| 3rd Net | 120 | Lou Ann Mason | Pete Petersen |
| | | Roger Keane | Mark Thompson |
| 4th Net | 120 | Theresa Anderson | Rich Haiber |
| | | Dave Anderson | Jim Rooney |
| | |
| --- | --- |
| CTP 13 LADIES | Theresa Anderson |
| CTP 5 MEN | Gary Adams |
| LONG DRIVE MEN | Chris Ritchie |
| LONG DRIVE WOMEN | Shelly Pinkerton |