2021 Junior Club Champions
Congratulations to all winners and participants!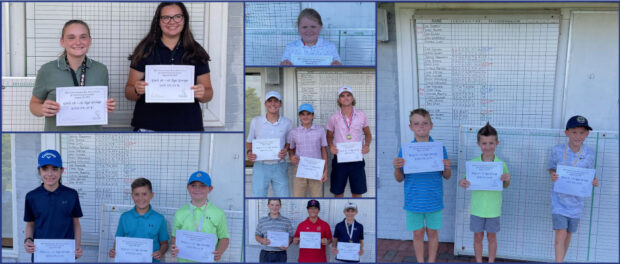 JUNIOR CLUB CHAMPIONSHIP RESULTS!
Nearly 30 junior golfers came out for our 30th Annual Junior Club Championship on August 20, 2021 here at Chesapeake Bay Golf Club, and the boys and girls battled it out on a great day of golf!
Evan Barbin defended his title with a 3-under par score of 68, which while not besting his record-setting score of 62 last year, was still good enough to clinch yet another junior title. Haverford HS rising freshman Pierce Murphy finishes runner up with his score of 88, and Rising Sun sophomore Jake Eckman finished 3rd with a 106.
On the girls side, Tome sophomore Karina Serio defended her title with a great score of 93, outlasting Rising Sun freshman Carly Waldridge. Karina's 93 was a significant improvement over her score from last year and has made tremendous strides in her game!
The boys 13-15 division was our biggest competition, with 10 in the flight. Zack Sullivan shot a great score of 43 en route to yet another junior club championship title to his ever-growing . Owen Duffy, last year's 13-15 champ finished runner up with his score of 47 (which also was a big improvement over last year). Sean Patrick rounded out the winners circle with his very respectable score of 49.
The boys 9-12 division was won by Chase Dizel, who turned in a great score of +5 over 7 holes to win by 11 shots over runner up Chase Hartsoe. Josh Schneider finished one shot behind the latter Chase with his score of 44.
The girl's 9-12 division was won by Carli Russell, who shot a great score in her tournament debut!
The boys 6-8 division was won by Colin Davis, whose great score of 31 for 5 holes clinched a tight contest between Davis Lehr who shot 32 and Brody Howard who shot 34.
Congrats again to all of our champions and participants for making it yet another awesome championship!
Boys Championship Division
Played 18 Holes
| | | | |
| --- | --- | --- | --- |
| First Name | Last Name | Score | To Par |
| Evan | Barbin | 68 | -3 |
| Pierce | Murphy | 88 | +17 |
| Jake | Eckman | 106 | +35 |
| Johnny | Waldridge | 113 | +42 |
| Brandon | Cohee | 124 | +53 |
Boys 13-15 Division
Played 9 Holes
| | | | |
| --- | --- | --- | --- |
| First Name | Last Name | Score | To Par |
| Zack | Sullivan | 43 | +8 |
| Owen | Duffy | 47 | +12 |
| Sean | Patrick | 49 | +14 |
| Caiden | Jordan | 53 | +18 |
| Shane | Kaplinsky | 53 | +18 |
| Lucas | Hartsoe | 56 | +21 |
| Sean | Snyder | 56 | +21 |
| Jeremy | Marandola | 57 | +22 |
| Anthony | Hartsoe | 59 | +24 |
| Aiden | Verdansky | 64 | +29 |
Boys 9-12
Played 7 Holes
| | | | |
| --- | --- | --- | --- |
| First Name | Last Name | Score | To Par |
| Chase | Dizel | 32 | +5 |
| Chase | Hartsoe | 43 | +16 |
| Josh | Schneider | 44 | +17 |
| Gavin | Quigley | 47 | +20 |
| Cillian | Murphy | 48 | +21 |
| Ray | Davis | 51 | +24 |
Boys 6-8
Played 5 Holes
| | | | |
| --- | --- | --- | --- |
| First Name | Last Name | Score | To Par |
| Colin | Davis | 31 | +3 |
| Davis | Lehr | 32 | +10 |
| Brody | Howard | 34 | +13 |
Girls Championship
Played 18 Holes
| | | | |
| --- | --- | --- | --- |
| First Name | Last Name | Score | To Par |
| Karina | Serio | 93 | +21 |
| Carly | Waldridge | 138 | +66 |
Girls 9-12
Played 7 Holes
| | | | |
| --- | --- | --- | --- |
| First Name | Last Name | Score | To Par |
| Carli | Russell | 51 | +24 |