2019 Club Championship Results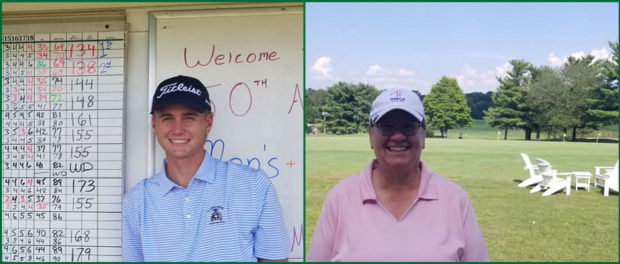 50th Club Championship at Chesapeake Bay Golf Club
2019 Club Champions
The Final Results of the 50th Club Championship at Chesapeake Bay Golf Club are in!
On the Men's side, Austin Barbin followed up his course record 64 with a solid round of 70, clinching his 5th career club championship title at the age of 18. His 36 hole total of 134 (-8) shattered the previous record he set the last three years of 138 (-4). This was the first year in recent memory we hosted the club championship from the black tees, and the first since the course was extended to 7031 yards from the tips, making Austin's tournament that much more impressive.
Austin held onto a 3 shot lead over his brother and 2015 champion Zachary Barbin, who shot matching rounds of 69 for the tournament for a 138 (-4). In third place, the oldest Barbin brother Andrew Barbin Jr. shot a 70 (-1) to compliment his first round 74 for a total of 144 (+2). Andrew leapfrogged younger brother Evan Barbin, who finished in 4th place with a 71-77 = 148 (+6). Right behind the Barbin brothers in the championship flight in a tie for 5th were Jeff Medlar and Mike Fox Jr, who both went 77-78 for a 155 (+13).
In the Men's A flight, Tommy Vincenti, the round 1 leader, fell behind early to a surging Rickey Smith and Mike Fox Sr who shot a 37 and 38 on the front respectively. Tommy responded with a one under par back nine en route to a 6 shot victory. Tommy's 76-79 = 155 finish is one of the lowest scores in A Flight history! Rickey Smith came in second with a 81-80 = 161, and Mike Fox Sr came in third with a 85-78 = 163.
In the Men's B Flight, Larry Steward held on to a tight lead to stave off Steve Westerfer, Jack Falkenstein, and Pete Petersen. Larry's 80-85 = 165 was only two strokes better than Steve Westerfers 83-84 = 167. Jack Falkenstein made up some serious ground with an 80, but came up a few shots short with his total of 169. Pete Petersen also finished at 169.
In the Men's C Flight, Mark Sabla improved his day 1 score by 5 shots with a score of 89 to shoot a winning 183. It wasn't easy however, because Gary Adams improved his day 1 total by 14 shots to storm back to one shot off the lead. Gary's 85 fell just shy of a remarkable come from behind victory. Mike Nelles finished in 3rd place with his score of 191.
On the Ladies side, Arlene Zamora improved her day 1 score by 2 strokes with an excellent 74. Her total of 150 secured her 9th career club champion title, an 18 stroke victory over last year's champion Shelly Pinkerton. Nobody in club history on either the men's or women's side has ever won 9 titles, so big congrats to Arlene for this amazing career achievement!
Shelly Pinkerton was crowned the first flight champion for her scores of 83 and 85, edging out Tammie Vincenti's 88 and 90.
The ladies second flight was a close contest between Bernie Weed and Keven Lawson, with Bernie taking the prize and defending her title with a great score of 86. Both ladies played very solid this weekend and had a great match!
In the ladies third flight, Denise Medlar's steady play powered her to a second straight flight title over Theresa Anderson. Denise's solid play even netted her a big skin for her net ace on hole 5!
Congrats to all champions and thank you too all our members who made this an awesome and memorable 50th club championship!
Final Results:
MEN'S CHAMPIONSHIP FLIGHT

PLACE
FIRST NAME
LAST NAME
RD 1 
RD 1 TO PAR
RD 2 SCORE
RD 2 TO PAR
TOTAL
TOTAL TO PAR
1st
AUSTIN
BARBIN

64

-7

70

-1

134

-8

2nd
ZACHARY
BARBIN

69

-2

69

-2

138

-4

3rd
ANDREW
BARBIN JR
74
+3

70

-1

144
+2
4th
EVAN
BARBIN
71
E
77
+6
148
+6
T-5th
MIKE
FOX JR
77
+6
78
+7
155
+13
T-5th
JEFF
MEDLAR
77
+6
78
+7
155
+13
7th
ANDY
BARBIN SR
81
+10
80
+9
161
+19
8th
JASON
VANOVER
89
+18
84
+13
173
+31
MEN'S A FLIGHT

PLACE
FIRST NAME
LAST NAME
RD 1 SCORE
RD 1 TO PAR
RD 2 SCORE
RD 2 TO PAR
TOTAL
TOTAL TO PAR
1st
TOM
VINCENTI
76
+5
79
+8
155
+13
2nd
RICKEY
SMITH
81
+10
80
+9
161
+19
3rd
MIKE
FOX SR
85
+14
78
+7
163
+21
4th
EARL
MITCHELL
82
+11
86
+15
168
+26
5th
AL
SNYDER
86
+15
86
+15
172
+30
6th
MARK
THOMPSON
89
+18
90
+19
179
+37
MEN'S B FLIGHT

PLACE
FIRST NAME
LAST NAME
RD 1 SCORE
RD 1 TO PAR
RD 2 SCORE
RD 2 TO PAR
TOTAL
TOTAL TO PAR
1st
LARRY
STEWARD
80
+9
85
+14
165
+23
2nd
STEVE
WESTERFER
83
+12
84
+13
167
+25
T-3rd
JACK
FALKENSTEIN
89
+18
80
+9
169
+27
T-3rd
PETE
PETERSEN
82
+11
87
+16
169
+27
5th
KENT
MORGAN
92
+21
81
+10
173
+31
6th
JIM
WEINZETL
89
+18
86
+15
175
+33
MEN'S C FLIGHT

PLACE
FIRST NAME
LAST NAME
RD 1 SCORE
RD 1 TO PAR
RD 2 SCORE
RD 2 TO PAR
TOTAL
TOTAL TO PAR
1st
MARK
SABLA
94
+23
89
+18
183
+41
2nd
GARY
ADAMS
99
+28
85
+14
184
+42
3rd
MIKE
NELLES
96
+25
95
+24
191
+49
4th
JACK
BALDINO
95
+24
97
+26
192
+50
5th
BOB
KERN
104
+33
100
+29
204
+62
6th
HAROLD
CREEK
101
+30
109
+38
210
+68
LADIES 1st FLIGHT

PLACE
FIRST NAME
LAST NAME
RD 1 SCORE
RD 1 TO PAR
RD 2 SCORE
RD 2 TO PAR
TOTAL
TOTAL TO PAR
1st
ARLENE
ZAMORA
76
+4
74
+2
150
+6
2nd
SHELLEY
PINKERTON
83
+11
85
+13
168
+24
3rd
TAMMIE
VINCENTI
88
+16
90
+18
178
+34
LADIES 2nd FLIGHT

PLACE
FIRST NAME
LAST NAME
RD 1 SCORE
RD 1 TO PAR
RD 2 SCORE
RD 2 TO PAR
TOTAL
TOTAL TO PAR
1st
BERNIE
WEED
93
+21
86
+14
179
+35
2nd
KEVEN
LAWSON
94
+22
92
+20
186
+42
LADIES 3rd FLIGHT

PLACE
FIRST NAME
LAST NAME
RD 1 SCORE
RD 1 TO PAR
RD 2 SCORE
RD 2 TO PAR
TOTAL
TOTAL TO PAR
1st
DENISE
MEDLAR
111
+39
107
+35
218
+74
2nd
THERESEA
ANDERSON
115
+43
112
+40
227
+83