2019 Chesapeake League Champions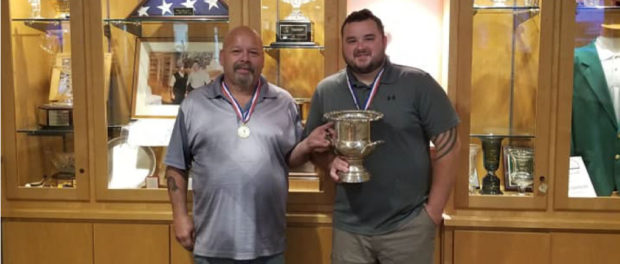 Huge congratulations to our 2019 Chesapeake Bay Golf Club Men's Golf League champions "Jack & Junior" (Jack Blanchet & Jennings Nichols) on their big win over "The Good, The Bad, & The Ugly" (Brad Hanks & Don Mahan)!
Jack & Junior made a huge late season comeback, winning 4 of their last 6 matches and sweeping on the League Regular Season Championship to claim a playoff spot. They then went on to beat the two time defending champion "Birdie Bandits" (Jeff Medlar / Dave Nickler) and our third place finalists Roger Keane and John Van Fossen.
Our consolation bracket winners were "Boop & Morgan", the team of Stephen "Boop" Bridges and Kent Morgan, who beat Randy Burton amd Rich Munyan in the finals. Our third place consolation bracket finalists were Drew Caudill and Jon Rosado.
Ultimately, we had an awesome season and had a lot of fun. We hope to see everyone again next year!
If you want to join our Thursday night league, sign up in the pro shop. We also are offering brand new Super Twilight Memberships and Season Tickets for those looking to save during league nights!
---
Chesapeake Bay Golf Club's Men's Golf League
Chesapeake Bay Golf Club's Men's Golf League is Open to the Public with 9 holes of competitive match play every Thursday from April-October.