2016 Net Championship Results
Congratulations to our Net Championship Victors – Bernie Weed Wins Ladies Division with a Net 142, and Dave Whitlock wins the Men's with a commanding 126.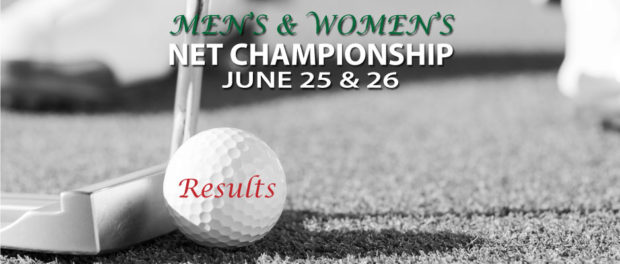 2016 Men's & Women's
NET CHAMPIONSHIP
June 25 & 26
Chesapeake Bay Golf Club's Men's & Women's Net Championship is a 2 day Net Tournament Saturday June 25th at the North East Course, and Sunday June 26th at the Rising Sun Course. Event open to all members, plus Ladies and Men's Golf Association and CBGC Season Ticket Holders. Format: 36 Hole stroke play event with 100% Handicap.
Everyone has a chance to win!
Golf Results – Saturday & Sunday
June 25 at North East, June 26 at Rising Sun
Men's Division
| | | |
| --- | --- | --- |
| 1st Place: | Dave Whitlock | 61 + 65 = 126 |
| | | |
| 2nd Place: | Rich Haiber | 66 + 64 = 130 |
| | | |
| 3rd Place: | Steve Smith | 66 + 71 = 137 |
| | | |
| 4th Place: | Jim Weinzetl | 71 + 67 = 138 |
| | | |
| 5th Place: tie | Homer Welch | 70 + 72 = 142 |
| | Bob Kern | 71 + 71 = 142 |
| | | |
| | Steve Westerfer | 72 + 71 = 143 |
| | | |
| | John Baynes | 75 + 68 = 143 |
| | | |
| | Matt Russell | 76 + 67 = 143 |
| | | |
| | Don Palmer | 72 + 74 = 146 |
| | | |
| | Frank Orbin | 79 + 69 = 148 |
| | | |
| | Tom Vincenti | 78 + 72 = 150 |
| | | |
| | Al Mingle | 80 + 82 = 162 |
| | | |
| | Jack Falkenstein | 84 + 81 = 165 |
Ladies' Division
| | | |
| --- | --- | --- |
| 1st Place: | Bernie Weed | 72 + 70 = 142 |
| | | |
| 2nd Place: | Joan Martin | 77 + 72 = 149 |
| | | |
| 3rd Place: | Susan Eichler | 74 + 78 = 152 |