2017 Special Awards Winners
Congrats to our 2017 Special Awards Winners for Sandbagger of the Year, Ladies & Men's Most Improved, Member of the Year, and Player of the Year with Photo Gallery.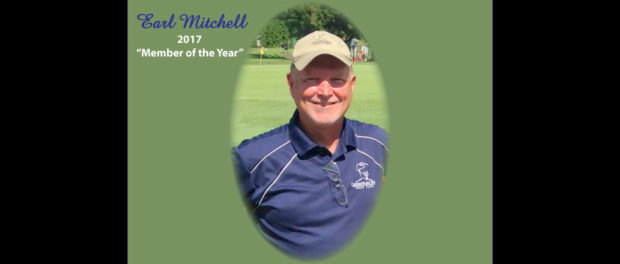 2017 MEMBERSHIP SPECIAL AWARDS WINNERS
The 2017 Chesapeake Bay Golf Club Membership Special Awards ceremony was held Sunday, October 15, 2017 in the Players Grille.  We'd like to congratulate, honor and thank all of the players and winners this season.
Special Recognition:
A special recognition for the Ladies Association President Joan Martin and the Ladies Board, and the Men's Association President Gary Rohrbaugh and the Men's Board for all their hard work organizing and running a flawless Association and tournament schedule.
2017 Dick Civita's "Sandbagger of the Year" Award

Frank Orbin
2nd Time Winner – so no stranger to this award!
Finished 1st – 2017 Net Championship with net scores of 67 + 67 = 134.
Finished 2nd – 2017 Club Championship, 1st Flight with gross scores of 93 + 89 = 182 playing from white tees.
Finished 2nd – 2017 Fall Member-Member paired with Steve Rogers with a net score of 62.
Finished 3rd – 2017 Spring Open Shamble paired with Homer Welch, Bob Kern & Frank Cortazzo with a team score of 119.
Finished 9th – 2017 Men's Big 4 paired with Dave Whitlock with a score of 178.
Wins Award Plaque.
2017 Ladies Most Improved Player

Keven Lawson
54 Rounds Posted
Handicap Index 27.6 to 27.1
.50 USGA Index Points Dropped
Keven is a Season Ticket holder and a member of the Ladies Association. Her beginning handicap index on April 1st was 27.6. Her ending handicap index on October 1st was 27.1. An improvement of .50. She posted 54 rounds. While an improvement of only .50, she is the only woman whose handicap did improve during the year.
1st Time Award Winner!
Most Improved Player Award Criteria: Must have a minimum of 45 Rounds entered into the CBGC Handicap System.
Wins Award Plaque
2017 Men's Most Improved Player

Steve Rogers
78 Rounds Posted
Handicap Index 17.9 to 12.4
5.50 USGA Index Points Dropped
Steve's beginning handicap index on April 1st was 17.9. His ending handicap index on October 1st was 12.4 for an improvement of 5.50 points.
1st Time Winner!
Wins Award Plaque
2017 Glenn Slonecker "Member of the Year" Winner

Earl Mitchell
Earl has been an ambassador for the club for many years.
Earl has been a long time member of Chesapeake Bay Golf Club and has consistently participated in many of the club's events.
In 2017, he overtook and organized the Orbital ATK golf league player every Tuesday evening exclusively at Chesapeake Bay this year.
He also played every Wednesday in the Cecil Law League – also played here.
Earl has been instrumental in bringing two new members – Ed Cowan and Walt Becker to the club in 2017!
It is a privilege to know Earl and call him a friend. We sincerely appreciate all of his efforts here at the Club.
Wins Award Plaque
2017 Tournament of Champions Cup Winner

Tom Vincenti
Total Score: Tom shot a 78 Gross with a winning Net Score of 69.
Wins Champions Vase
2017 "Player of the Year"

Tom Vincenti
Total Points won in regular season – 110 pts in 18th Place.
Finished 1st in the overall Player of Year Points Race with 2,820 pts
This is his 2nd Player of the Year Award
Wins Crystal Vase / $300 towards 2018 Membership
---
Photo Gallery