15-Inch Cups Are Here
Chesapeake Bay Golf Club's North East Course
You've Got to Try This! Chesapeake Bay Golf Club unveils its 15″ Cups at the North East Course this weekend through Friday, October 3rd.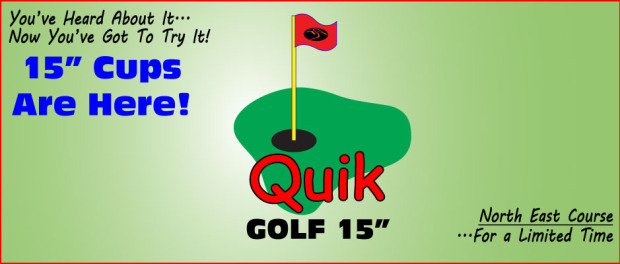 Tee Time North East Course  |  Call Pro Shop 410-287-0200 x3
Quik Golf 15" Cups – Big, Bold, Fast.
There is a buzz in the golf industry around a bold new concept in golf designed to make golf rounds quicker, less difficult, and more enjoyable.  The idea? A 15" Cup that is credited to TaylorMade CEO Mark King according to an April 15, 2014 article at GOLF.com.  This jumbo cup is over 3 ½ times larger than the standard, traditional four and a quarter inch cup.  The hope behind the dinner plate size cup is to generate a renewed growth and interest in golf by bridging the gap between the beginner golfer and the more experienced player.
The 15" Cups have the potential to allow for a quicker round of golf – shaving 45 minutes off the average 18 hole round with the added bonus of a higher probability of pars, birdies and eagles.  This is an especially attractive formula for the beginner, senior, junior and casual golfer. The game of golf, more than any other sport, has historically made many adjustments and variations to allow for players to play the sport to the best of their physical ability.  The length of play is altered with the creation of a variety of tee boxes, and the handicap system allows for a level playing field.  The 15" Cup follows with that line of thinking to create another fun way for people to experience and enjoy the great game of golf.
Known throughout the region as an innovator in the golf industry, Chesapeake Bay Golf Club is unveiling its Quik Golf 15" Cups at the North East Course September 27th for a limited time on all odd numbered holes: 1, 3, 5, 7, 9, 11, 13, 15, and 17.  Although customers can still play a traditional round of golf on all 18 Holes, Chesapeake Bay Golf Club will be challenging their customers to try out what Chesapeake Bay Golf Club has named Quik Golf 15" on the odd numbered holes and will be polling customers as to their experience following their round to capture the public interest level for the idea.
Big Benefits for Golf Outings & Fundraisers
The 15" Cup will also be available for fundraising events, and golf outings to generate excitement, fun, a larger turnout and a speedier round for participants.  Creativity is key at Chesapeake Bay Golf Club! In addition to the bold Quik Golf 15" Cups, we offer innovative ideas for Events and Outings such as FootGolf at the Rising Sun Course – the fusion of soccer and golf that requires no prior skills – anyone can play.  Chesapeake Bay Golf Club is proud to be recognized as the first Accredited FootGolf Course in Maryland.
Whether the 15" Cup takes off across America as the next big thing in golf is still yet to be seen.  The only way to find out is to try Quik Golf 15" Cups for yourself! Hurry! Make your tee time today at the North East Course and become a pioneer in helping to advance accessibility to golf to the next generation and beyond.