Have you tried FootGolf at Chesapeake Bay Golf Club yet? The fun fusion of soccer and golf. Anyone can play! Perfect for Kids Parties, Fundraisers & more!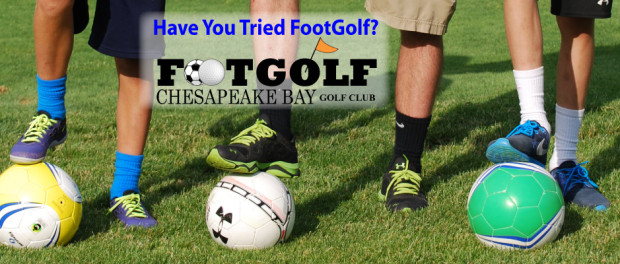 Have You Tried FootGolf Yet?
Reserve Your Kick Off Time | FootGolf Rates | FootGolf League
FootGolf Outings | FootGolf Parties
FootGolf at Chesapeake Bay Golf Club's Rising Sun Course is the fun fusion of soccer and golf. If you love soccer, you'll love FootGolf! Anyone can play! So it's the perfect outdoor group activity. FootGolf is fun and affordable ~ a new idea for kids birthday parties ~ not to mention for tweens, teenagers, and adults too! If you are an Outing Representative, why not consider FootGolf for your next charitable fundraiser or outing? Please contact our Sales Staff for more information and date availability 410-658-4343 x26 or 410-287-0200 x11.
FootGolf at Chesapeake Bay Golf Club's Rising Sun Course is available for play after 1pm on Weekdays and 3pm Weekends and Holidays. Call the Rising Sun Course Pro Shop 410-658-4343 x26 for further details or to reserve your Kick Off time today!
What is FootGolf?
FootGolf integrates the world's number one elite sport – golf, with the world's most popular sport – soccer. The object is to get a soccer ball with the lowest number of kicks from the tee area into the hole. People began playing the sport in Europe around 2009, and it quickly spread in popularity to South and North America.  Chesapeake Bay Golf Club is proud to be recognized as the first Accredited FootGolf Course in Maryland by the American FootGolf League, the governing body for the sport of FootGolf in the US, and the organization that introduced FootGolf in North America in 2011.
FootGolf Basic Rules
Follows the basic rules of golf – no clubs – just a soccer ball (Regulation FIFA soccer ball #5)
Play 18 Holes of FootGolf on Rising Sun's Front 9 Golf Holes
Kick off from tee boxes or rough
Try to sink the ball in the hole in the fewest kicks possible
Try to make Par if you can – 3 kicks, 4 kicks, 5 kicks!
A fun and inexpensive way to challenge your soccer skills
A Walking Experience – No running required
Sneakers or turf shoes only – no cleats please
New! We now Offer 4 Different Size FootGolf Balls:

Mini – for Age 5 & Under
Small – for Age 8 & Under
Medium – for Age 12 & Under
Regular – for Age 13+
End of Year Soccer Parties
Soccer Coaches – Looking for a fun way to celebrate your soccer team's success? Bring the team out for a fun round of FootGolf! If you'd like, we can arrange for food and refreshments afterward. Contact our Sales Staff at 410-658-4343 x26 to book your date, or Fill Out Our Event Request Form and an associate will contact you.
FootGolf Kids Parties
FootGolf Kids Parties are fun and affordable! Anyone can play, and the kids will enjoy a great day playing outside! We can arrange for lots of the details for you including food, theme, goodie bags & more. Please visit our Kids Parties page for more details or Call our Sales Staff at 410-287-0200 x11. FootGolf works for kids of all ages – and truly is the perfect activity for tweens and teenagers as well – for a special occasion, or just for a fun way to spend an afternoon with family and friends.
FootGolf Outings and Events
A FootGolf Outing is a fun new option for Charitable Fundraisers, Group Events, Team-building, Groom's Outings & More! We can arrange for all of the details to make your event successful – including food, sponsor signs, prizes, event scoring and so much more. We look forward to hearing from you to arrange your FootGolf Outing! Please fill out our Outing Request Form or Contact our Sales Staff at 410-658-4343 x26 for date availability or more information.