Brzezinski Wins FootGolf Open
Mike Brzezinski takes 1st Place in Chesapeake Bay Golf Club's inaugural FootGolf Open with an impressive 5 under par 66.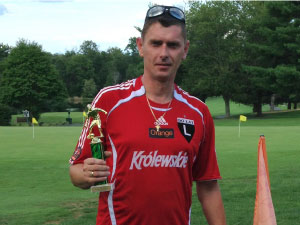 FootGolf Open August 24 ~ Results
Chesapeake Bay Golf Club's Rising Sun Course
It was a gorgeous summer day Sunday  perfect weather for our first ever FootGolf Open. The top three scorers brought their "A" games firing rounds under par.
Top 5 Scores
| | | |
| --- | --- | --- |
| Mike Brzezinski | 66 | 1st Place |
| Robert Maher | 69 | 2nd Place* |
| Brian Steinour | 69 | 2nd Place* |
| Stephan Stasak | 72 | 4th Place |
| Jonathan Atunes | 73 | 5th Place |
FootGolf Open Photo Gallery