Tom Vincenti – 2017 Player of the Year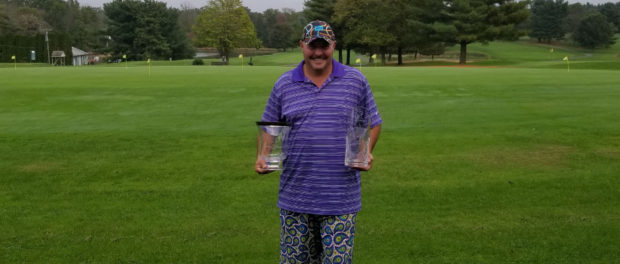 Congratulations to Tom Vincenti who finished his golf season on top winning Chesapeake Bay Golf Club's 2017 "Player of the Year" with a final 2,820 points.
Playoffs Recap
CBGC's Playoffs concluded Sunday with the top players on our Player of the Year Points List competing in the Tournament of Champions.
We like to congratulate Tom Vincenti for winning this year's Champions Cup with a Net 69, and for winning the 2017 "Player of the Year" Award with a final year-end points list total of 2,820. Tom ended up the regular season with just 110 points. His stellar performance in the Tournament of Champions took him to the top. Jim Weinzetl lead in regular season points with 881.25 and finished in 2nd place in the playoffs with 2,783 points. Austin Barbin had low gross honors for the day with a 76 and finished third in overall points with 2,694.
A big thanks to all of our Members for a great golf tournament season!
2017 Tournament of Champions Final
"Net" Results
Sunday, October 15, 2017 at Chesapeake Bay Golf Club
| | | |
| --- | --- | --- |
| 1st Place: | Tom Vincenti | 69 |
| 2nd Place: tie | Don Palmer | 73 |
| | Mike Nelles | 73 |
| | Larry Steward | 73 |
| 5th Place: | Frank Orbin | 74 |
| 6th Place: tie | Austin Barbin | 75 |
| | Arlene Zamora | 75 |
| | Steve Smith | 75 |
| | Tammie Vincenti | 75 |
| 10th Place: tie | Joe Scott | 76 |
| | Homer Welch | 76 |
| | Steve Westerfer | 76 |
| | Bob Kern | 76 |
| 14th Place: tie | Jim Weinzetl | 78 |
| | Andrew Barbin, Jr. | 78 |
| 16th Place: tie | Evan Barbin | 80 |
| | Steve Rogers | 80 |
| 18th Place: | Mark Sabla | 82 |
| 19th Place: | Frank Cortazzo | 83 |
| 20th Place: | Bernie Weed | 85 |
| 21st Place: | Keven Lawson | 90 |
2017 Player of the Year – Final Points Totals
| | | |
| --- | --- | --- |
| 1st Place: | Tom Vincenti | 2820 |
| 2nd Place: | Jim Weinzetl | 2783 |
| 3rd Place: | Austin Barbin | 2694 |
| 4th Place: | Frank Orbin | 2550 |
| 5th Place: | Don Palmer | 2183 |
| 6th Place: | Bernie Weed | 2055 |
| 7th Place: | Joe Scott | 1938 |
| 8th Place: | Arlene Zamora | 1814 |
| 9th Place: | Mike Nelles | 1523 |
| 10th Place: | Larry Steward | 1483 |
| 11th Place: | Evan Barbin | 1373 |
| 12th Place: | Steve Rogers | 1073 |
| 13th Place: | Andrew Barbin, Jr. | 883 |
| 14th Place: | Steve Smith | 864 |
| 15th Place: | Homer Welch | 818 |
| 16th Place: | Tammie Vincenti | 744 |
| 17th Place: | Steve Westerfer | 718 |
| 18th Place: | Keven Lawson | 710 |
| 19th Place: | Bob Kern | 698 |
| 20th Place: | Shelly Pinkerton | 625 |
| 21st Place: | Mark Sabla | 605 |
| 22nd Place: | Frank Cortazzo | 570 |
| 23rd Place: | Zach Barbin | 562.5 |