Spring Open – 2021 Golf Results
Congrats to our Low Gross + Low Net Teams – and all participants!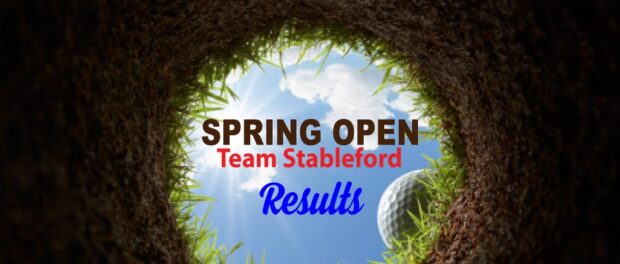 Chesapeake Bay Golf Club's
2021 Spring Open Team Stableford
Golf Results
Chesapeake Bay Golf Club's Spring Open "Team Stableford" was held on Sunday, April 25, 2021.
Congratulations to our Spring Open winners! This year we did a team modified stableford format, and despite blustery conditions we had 11 teams go out and post some good numbers! Our gross champions were the team of Andrew Barbin Jr, Lou Najera, Dave Psenicska, and Chris Ritchie – finishing with a team score of 2 points. Our net winners with 30 points was the team of Jeff Medlar, Denise Medlar, Pete Petersen, and Mike Fox Sr. Jeff's hot start to the season puts him tentatively on top of the player of the year.
"Team Stableford" / Event Format:
4 Person Team Event
Net Event – 100% Handicap
"Team Stableford"

Double Eagle: 5 points, Eagle: 4 points, Birdie: 3 points, Par: 2 points, Bogey: 1 point, Double (max score): 0 points

1 Net Best Ball per Hole will be the Team Score
Golf Results
Low Gross
POSITION
TEAM
SCORE
1st
Andrew Barbin Jr
2
Lou Najra
Dave Psenicska
Chris Ritchie
2nd
Eric Walters
1
Justin Ragan
Al Snyder
Tom Covert Sr
3rd
Tyler Spielberger
-2
Keith Keomanikhoth
Israel Eleazer
Jason Hurlock
4th
Doug Phillips
-7
Rick Speed
Rashad
5th
Jeff Medlar
-9
Denise Medlar
Pete Petersen
Mike Fox Sr
6th
Mike Nelles
-10
Evan Barbin
Justin Eldreth
Bobby Whiteoak
7th
Rickey Smith
-16
Gordy Kerr
Jeremy Pierce
Jesse Crockett
8th
Eric Klotz
-28
Jerry Hogue
Tyler Hogue
Joe Ferdinando
9th
Rob Reil
-29
Adam Love
Al Love
Jimmy Sample
10th
Mike Kennedy
-38
Chris Roubic
David Shoemaker
Jordan Fieger
11th
Bernie Weed
-41
Keven Lawson
Linda French
John Baynes
Low Net
POSITION
TEAM
SCORE
Andrew Barbin Jr
31
(Won Gross)
Lou Najra
Dave Psenicska
Chris Ritchie
1st
Jeff Medlar
30
(Match of Cards)
Denise Medlar
Pete Petersen
Mike Fox Sr
2nd
Doug Phillips
30
(Match of Cards)
Rick Speed
Rashad Ferguson
3rd
Eric Walters
30
Justin Ragan
Al Snyder
Tom Covert Sr
4th
Mike Kennedy
29
Chris Roubic
David Shoemaker
Jordan Fieger
5th
Rickey Smith
27
Gordy Kerr
Jeremy Pierce
Jesse Crockett
6th
Mike Nelles
25
Evan Barbin
Justin Eldreth
Bobby Whiteoak
7th
Tyler Spielberger
23
Keith Keomanikhoth
Israel Eleazer
Jason Hurlock
8th
Bernie Weed
18
Keven Lawson
Linda French
John Baynes
9th
Eric Klotz
14
Jerry Hogue
Tyler Hogue
Joe Ferdinando
10th
Rob Reil
9
Adam Love
Al Love
Jimmy Sample